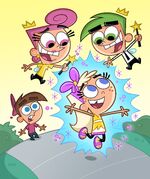 Nickelodeon has scheduled new episodes for the new season of "The Fairly OddParents" this winter.
Here's a full list of every episode coming this winter:
-Friday 1/15 @ 7:30 p.m. "The Big Fairy Share Scare" Due to a loophole in the rules, Timmy must now share his fairies with a little girl named Chloe Carmichael.
-Friday 1/22 @ 7:30 p.m. "Whittle Me This" When Catman thinks that Timmy was kidnapped, he mistakes Chloe for his sidekick, Catgirl, and enlists her help in rescuing him.
-Friday 1/29 @ 7:30 p.m. "Mayor May Not" When Timmy wishes that his father could be Mayor, he ends up getting tortured by the paparazzi and risks having his fairies discovered.
Community content is available under
CC-BY-SA
unless otherwise noted.