Nickelodeon has scheduled lots of new episodes of "The Fairly OddParents" this Summer. There'll be four weeks of new episodes, leading up to the premiere of the all new live-action movie "A Fairly Odd Summer".
Here's a full list of every episode coming this Summer: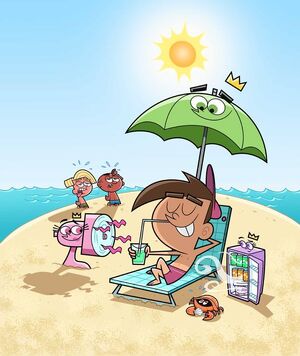 - Monday, 7/7 @ 3:00 p.m.
"Cosmonopoly/ Hero Hound"
Timmy, his father and the fairies get stuck in a board game created by Cosmo/ Timmy wishes that Sparky would get a chance to be heroic.
- Tuesday, 7/8 @ 3:00 p.m.
"A Boy and His Dog-Boy/ Crock Blocked"
Timmy wishes that Sparky could become human/ Timmy wishes that Mr. Crocker would disappear, and Mr. Crocker becomes invisible.
- Wednesday, 7/9 @ 3:00 p.m.
"Finding Emo/ Dust Busters"
Timmy makes a wish to be "emo" and stops caring about everything/ Timmy and the fairies have to rid his home of fairy dust.
- Friday, 7/11 @ 3:00 p.m.
"The Past and the Furious"
When Cosmo and Wanda bring Timmy back through time to meet their former Godchildren, his interactions with them alter the future.
- Monday, 7/14 @ 3:00 p.m.
"Let Sleeper Dogs Lie/ Cat-Astrophe"
Crocker tries to trigger Sparky with a secret word/ Catman confuses Sparky with his arch-nemesis, Dogman.
- Tuesday, 7/15 @ 3:00 p.m.
"Jerk of All Trades/ Snack Attack"
Timmy helps Jorgen find a new job after he is fired/ Sparky makes his own magic dog treats.
- Wednesday, 7/16 @ 3:00 p.m. - "Dimmsdale Tales"
When Dad forgets all of the supplies for the Squirrely Scouts camping trip, Timmy tries to smooth things over with scary stories around a campfire.
- Friday, 7/18 @ 3:00 p.m. - "Turning Into Turner/ The Wand That Got Away"
Using Timmy's DNA, Crocker pretends to be Timmy from the future/ Cosmo loses his wand and Timmy and the gang must help find it.
- Monday, 7/21 @ 3:00 p.m. - "Love at First Bark/ Desperate Without Housewives"
Sparky is forbidden from dating Dinkleberg's new dog/ Timmy wishes all women away to end Mom's constant nagging.
- Tuesday, 7/22 @ 3:00 p.m. - "Stage Fright/ Gone Flushin'"
After deciding she wants to be an actress, Vicky forces Timmy to help her get a her first role/ Dad flushes Timmy and the fairies down the toilet.
- Wednesday, 7/23 @ 3:00 p.m. - "The Bored Identity/ Country Clubbed"
When Dad believes that everyone finds him boring, Timmy wishes his life was like an action movie/ Timmy and his parents are invited to a country club.
- Friday, 7/25 @ 3:00 p.m. - "Two and a Half Babies/ Anchors Away"
Foop and Poof must take care of an egg for a school project/ Timmy's father becomes a news anchor when Chet Ubetcha quits his job.
- Monday, 7/28 @ 3:00 p.m. - "Dog Gone/ Turner Back Time"
After Dad rejects his offer to buy Sparky, Dad's boss makes his job miserable/ Timmy wishes that his ancestors had different careers.
- Tuesday, 7/29 @ 3:00 p.m. - "Weirdos on a Train/ Tons of Timmys"
After making a deal with Dad, Crocker becomes best friends with Dinkleberg/ Timmy wishes for 5,000 Timmys for the Planet of the Dads.
- Wednesday, 7/30 @ 3:00 p.m. - "Lame Ducks/ A Perfect Nightmare"
Dad starts a neighborhood watch program/ Timmy tries to win a contest by wishing that he had the perfect family.
- Friday, 8/1 @ 3:00 p.m. - "Fairly Odd Fairy Tales"
When Poof has trouble falling asleep, Wanda tries to help by reading him a book of classic fairy tales.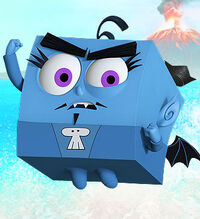 - Saturday, 8/2 @ 8:00 p.m. - "A Fairly Odd Summer"
Get ready for the oddest summer yet! Timmy Turner and his fairies are going on a summer vacation to Hawaii. But, unfortunately for Timmy, something tells us this won't be a very relaxing holiday. With all the magic in Fairy World at stake and villains like Vicky , Foop and Crocker on his tail, there's no way he'll be able to enjoy himself… But that doesn't mean you can't! Sit back and watch Timmy's cray cray vacay adventure in A Fairly Odd Summer!
---
This is gonna be a good summer for sure!
Bad news is that, after all this new stuff, there'll only be four episodes left this season, two 11-minutes segments, and two half-hour specials.
So, which episode is you looking forward to? Comment below!