(edit)
| | |
| --- | --- |
| | This User strives for recognition. |
File:HNI 0022.JPG

Hello My name is Noah Bossier and I am a Fairly Odd-parents Fan as well as a fan of animation and photography and film

making. I have seen F.O.P since I was little but really got into it when I was 10-11 years old. I make my own stories with characters from F.O.P and other shows and films.
My world is basically like the CN City spots in which characters interact with each other and have diffrent adventures.
I like good animated movies like Iron Giant, Treasure Planet, Emperor's New Groove, Atlantis the Lost Empire, Incredibles(and almost all other pixar films), Prince of Egypt, Road to Eldorado, Hunchback of Notre Dame and many other films.
I also like making models and dioramas and taking photography of various vehicles and settings and props.
I have a crush on Trixie Tang(Nice tomboy version with development not flanderized version of later season). I wrote a fan fiction about her being a tomboy. I am going to develop it into a series to pitch to Nickelodeon.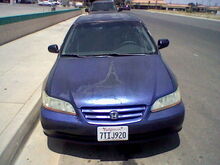 My favorite pages