Hi there FOP fans!

(edit)
| | |
| --- | --- |
| | This user is a fan of Cosmo. |
About me
I am a huge Fan of Wanda and the Fairly odd parents!
| | |
| --- | --- |
| | This user is a fan of Timmy. |
| | |
| --- | --- |
| | This user is a fan of Poof. |
Cosmowandaforever
Hello, I'm an administrator here at the fairly oddparents wiki and I'm a big fan of it. Also I am a fan of Cosmo and Wanda's pairing. Also watch their love song (floating with you) and their gallery at the bottom. Also see my contributions it may help you in contributing and editing and leave suggestions or questions at my talk page.
Cosmo and Wanda
Cosmo and Wanda are married for over ten thousand years. Despite some bumps along the way they have a strong and loving relationship that will last forever and this is why I'm a big fan of cosmo and wanda. They first met in a diner. it's love at first sight and eventually got married. They will have a baby on their own when timmy wishes for it in fairly oddbaby. See also : Cosmo and Wanda (pairing) 
Subscribe to youtube
Subsribe to my youtube account cosmowandaforever(same as my username here). I am recently uploading the season 0 episodes, musicals and tributes to characters(Cosmo and Wanda) I'm currently working on FOP's season2 so subscribe to be updated.
Other Profiles
check out my other accounts:
deviantart: http://cosmowandaforever.deviantart.com
thefairlyoddfanonwikia: http://fairlyoddfanon.wikia.com/wiki/User:Cosmowandaforever
FanFiction: http://www.fanfiction.net/~cosmowandaforever
YouTube: http://www.youtube.com/user/cosmowandaforever?feature=mhsn
Floating With You
Wanda: I was lost Till he found me And although he confounds me By his crown Is where I know I should be Yes, I know he's a moron With a brain made of boron And yet, I'm drawn to him magically And through every moment of turmoil And moment of pain Through all of our misadventures One thing remains Facing pixies, bullies, and jarheads I'll never be blue As long as I'm floating With you
Cosmo: I saw her and no other I still lived with my mother When I spotted her swirly pink hair Though my shoes smell like tar pits And I don't wash my armpits I like monkeys too much, But I know she doesn't care And I know that I'm forgetful I know I'm dim And even though I've just eaten I know I'll swim I know that it doesn't matter If I can't count to two As long as I'm floating With you
Both: Even though we're in deep here And they might make us sleep here Here with you, dear, is Where we both make our stand
Wanda: I am braced for attack and
Cosmo: Knowing she has my back and
Both: All I need is your hand In my hand Wanda: Baby, I know I can be nagging
Cosmo: I know you're naggy too
Wanda: I know that I'm demanding
Cosmo: (Oh, man is that true.) But one thing I'm understanding
Both: No matter what we go through I'd rather go through it I know I'll get through it If I'm floating through it With you
See Also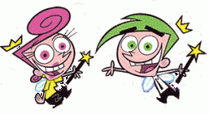 Wiki Pages That I've Created
Episodes that I've Finished Creating a Sypnopsis
Visit My Youtube Channel
cosmowandaforever @ youtube
You can watch some full season 2 video, some FOP musicals like "Floating With You" and "Shiny Teeth" and some tributes to Cosmo and Wanda. I'm still working on the season 2 so subscribe to keep track of my uploads. Thank you and have a nice day.

Cosmowandaforever

(

msg

)
13:07, January 23, 2011 (UTC)
Community content is available under
CC-BY-SA
unless otherwise noted.