About me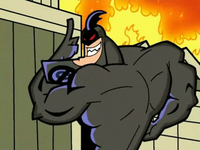 I've been watching Fairly OddParents since it's first episode, then got all the Oh yeah! Cartoons. I don't care much for newer episodes, but there's nothing I can do about that.
I joined wikia many years ago, and first saw Fairly Oddparents wiki around that time. Coming back after so long, I'm very happy to see that this website has gone far. Back when I started here, character articles were puny and only about 30% of the episode articles were in existence.
Favorite Seasons
5. Season 5
4. Season 1
3. Season 4
2. Season 2
1. Season 3
Favorite Characters
10. Super Toilet
9. Crimson Chin
7. Tootie
6. Nega-Chin
5. Cosmo
4. Anti-Fairies
3. Dyno Dad
2. Vicky
Favorite Episodes
5. Tiny Timmy
4. Cosmo Con
3. Power Mad
Q & A
For Chidori1,000:
Who's your favorite characters?: I like both Tootie and Vicky (sistas!) but my all time favorite is Jorgen Von Strangle! He's awesome, or at least he was. He still is, but you know how the show made him... lamer...
Favorite episodes on FOP!: I have three: #3- Power Mad, because I get sweet nostalgia from the old season one episodes of FOP. #2- Most Wanted Wish, partly because Jorgen was awesome in it, but also because the ending scared me. How did Timmy get his fairies attention back? and #1- Just the Two of Us, Timmy and Trixie... not such a great idea anymore, is it xD
What's your least favorites?: I might make a lot of people mad, but in order, #3- Poof's Playdate, I just disliked it! They put way too much attention in making Jorgen look like a gross fool, especially as a kid, and barely focused on the other babies. #2- Wishology, all of it. It did make me laugh from time to time, but it practically started Timmy as a "chosen one". I liked it better when he was an irresponsible twerp with fairy magic. #1- Grow Up Timmy Turner, AND ALL IT'S SPIN-OFFS!!! Live-action, that is all. I also didn't like Temporary Fairy. It didn't make sense, it just didn't; If Jorgen is like this with a godchild, how is he without one? He isn't like this at all!
Who's your favorite pairings?: Timmy and Tootie.
Poof, love, hate, or neutral?: He's like that adorable dog that ads add to medication commercials to distract from the long list of side-effects.
Who's your favorite fairy?: Jorgen, of course!
Who's your at least favorite characters?: Tad and Chad
If you had a magic muffin, what would you wish for?: I wish Jorgen were my fairy godparent FOREVER, and unlike Timmy in Temporary Fairy, I'd use my wishes to make him not put me in extreme conditions.
Community content is available under
CC-BY-SA
unless otherwise noted.