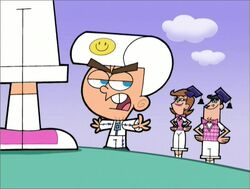 Unfundamentals is a song sung in the episode, School's Out: The Musical.
Featuring
Lyrics
Cosmo:
This used to be a fun place
But now we wear a sad face
Since pixies have all replaced
The way that things are done
Jorgen:
There's no more granting wishes
You can't turn into fishes
Now pipe down do the dishes
Come on now everyone
Cosmo & other fairies (variously):
These are the unfundamentals
For us fairy godparent-als
Who are now devoid of wishing
And of mirth
We're certifiably de-mental
'Cause these unfundamentals
Make being fairies about as fun
As giving birth
Cosmo:
I'll bet it's even worse
Down there on Earth!
Wanda:
Timmy?
Timmy? Timmy?
Timmy?
Timmy?
Flappy Bob:
All the arcades now close at three
The trampolines are bouncy free
And there's a pad on every knee
Everything's fine, far as I see
But I can't help but think out loud
The things that kid had said somehow
My mom and dad would not be proud
Of the path I've taken in life

Have I been wrong? Have I been used?
Should I embrace my nose and shoes;
Accept these gifts I once refused?

Happy Peppy Gary and Betty:
I'm happy, peppy-
Flappy Bob:
NOT NOW!
Timmy:
Our heads must be protected
Our bodies disinfected
This is just as I suspected
What would happen if this world was ruled with...
Timmy, Chester A.J. and Sanjay:
...unfundamentals
Surely all you parentals
Must see how devoid of fun This truly, truly is
Dad:
But all these unfundamentals
Seem quite instrumental
To keep all of you rowdy Kids in line
If you need us, we'll be playing The back nine
Community content is available under
CC-BY-SA
unless otherwise noted.