Trivia
Allusions
Running Gags
Timmy having to hold it despite needing to go to the bathroom.
Britney Britney saying random things.
Production Notes
Although this episode premiered in 2005, it was produced in 2003 according to the credits.
Goofs
It is said that there are no doors in Fairy World, yet doors have been seen and used by fairies all the time in episodes before and after this one (ex. the doors at the Pointy Crown in This Is Your Wish).
Cosmo said that he invented oxygen and that every time the fairies inhaled they had to pay him a quarter. However, it was said in Transparents! that fairies don't need to breathe.
When Luthor offered his job resumé to Cosmo, his name on the resumé said Luther Lex rather than Luthor Lex.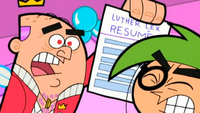 Community content is available under
CC-BY-SA
unless otherwise noted.