Trilly




Gender:
Female
Species:
Gigglepie
Eye color:

     

Purple
Personal Information
Occupation:
 
Invader
Residence:
 
Yugopotamia (invaded)
Earth (invaded)
Homeworld:
 
Unknown
Aliases:
 
"The Special Surprise Inside"
Enemies:
 
Yugopotamians
Timmy Turner
Goal:
 
To drain each planet dry to produce their merchandise
"I'm Trilly, the trust Gigglepie! ...Accessories not included. You can surely trust in me, I shall now take you to Overlord Glee!"
— Trilly the Trust Gigglepie
Trilly the Trust Gigglepie is an alien of the Gigglepie race.
Information
She appears in the episode, So Totally Spaced Out, where she and the rest of the seemingly-sweet little Gigglepies quickly took over the war planet, Yugopotamia after posing as the "Special Surprise Inside" a box of Invader O's cereal. She has not appeared in any other episode as of now.
Description
Trilly the Trust Gigglepie has large floppy ears, shiny purple eyes with long eyelashes, and a small pink nose. She is colored creamy yellow and has an antenna on her head with a heart piece on it, matching the heart necklace she wears. The heart signifies that she is the Trust Gigglepie since people have to trust with their heart.
Personality
Trilly speaks in a high-pitched voice and always talks in rhyme, but occasionally murmurs things such as "Accessories not included." She appears to be very innocent and carefree since even when Timmy threatened her, demanding for her to take him to Overlord Glee the Gigglepie leader, she simply agreed to help and skipped off, not suspecting anything.
Background
Like the other Gigglepies, Trilly is a follower of Overlord Glee, the evil leader of the Gigglepies. Using her cuteness to mesmerize people, she is able to control their actions. For example, after hypnotizing
Cosmo
and
Wanda
, they became obsessed with buying and trading Gigglepie merchandise, losing all their senses. However, after Timmy was tickled by a crowd of Gigglepies for getting suspicious about their dark plan of sucking each planet dry to make more Gigglepie merchandise, he cries out to his two godparents, begging for help and getting their attention for a brief second. Trilly then shows up and starts hypnotizing Cosmo and Wanda again, but after she fails to rhyme her lines, they snap out of the spell and proceed to save Timmy.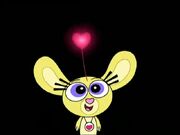 After the Yugopotamians ate the Gigglepies when Cosmo discovered that the bunny-like creatures tasted like manure, Timmy returns to Earth where his mom hands him a box of Invader O's. As he peers into the box, he screams a loud "NO!" and as the episode ends and the screen goes black, Trilly pops out and giggles.
Trilly the Trust Gigglepie