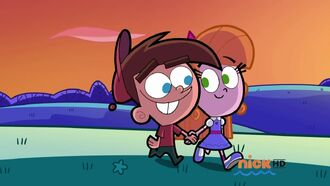 Timmy and Missy is a romantic pairing involving Timmy and Missy. Although Missy only appeared in Finding Emo, the ship became popular very quickly which caused huge backlash from Timmy and Trixie and Timmy and Tootie fans.
Background
Before the events of Finding Emo, Timmy first met Missy at school as his new classmate. Like Trixie, Timmy quickly fell in love with her but unlike what happened to Trixie, Timmy felt so shy.
During the episode, Timmy tried to impress Missy by being a jock, and a sensitive guy with a guitar but then all those plans backfired.
Timmy then wishes to be a goth which caused his personality to not care about anything especially wishing. Since Timmy doesn't care about wishing, Jorgen has to threaten Timmy's fairies to leave if Timmy doesn't make a wish by sunset.
So as the sun is going down, Timmy sits on a grassy hill and then suddenly, Missy shows up. Timmy didn't care and then kisses Missy on the lips before he resumes with the sunset. Wanda then panicked and tells Missy that the plan didn't work which reveals that Missy is actually Cosmo in disguise. Realizing that he kissed Cosmo, Timmy shouts and spits in disgust and then stops being depressed. Timmy then wishes to be himself.
And then suddenly, the real Missy shows up and then she confesses that she likes Timmy back. They then decided to go to a movie thus ending the episode.
Gallery
See also
Community content is available under
CC-BY-SA
unless otherwise noted.