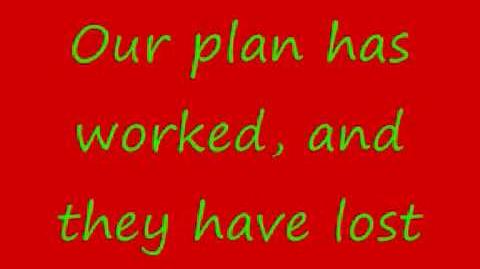 The Reprise Remix is sung in the episode, School's Out: The Musical. As the name implies, it is a mixed reprise of "Where Is The Fun?", "Kids Just Being Kids", "Da Pixie Rap", and "Adults Ruin Everything".
Featuring
Lyrics
Timmy:
Hey Flappy Bob, can't you see what they've done
Flappy Bob
:
It might reek now, but it can all be undone
Timmy:
So grab your kites and water gun
Sanjay:
My bike!
A.J.:
My clones!
Chester:
This big sticky bun!
Timmy:
It's not a crime
To have your time in the sun
Happy Peppy Gary and Betty:
Kids just being kids
Acting up and eating dirt
Kids just being kids
They could all get hurt!
Kids:
Kids just being kids!
Timmy:
To keep those goons off all our butts
We'll get this town out of its rut...
Kids & Timmy:
By us kids just being kids
Head Pixie & Sanderson:
Yo. We're pixies. We're pixies.
We firmly rule all the tricks, see?
H.P.:
The time has come
The deal's gone through
Sanderson:
There's fun? Stay there
We'll come to you
H.P. & Sanderson:
We're pixies. We're pixies
This is how we get our kicksies
H.P.:
Our plan has worked, and they have lost
Sanderson:
Let's ping on down and show who's the boss
H.P. & Sanderson:
The pixies. The pixies. The pixies...
Timmy:
You two shout real loudly
Flappy Bob:
It's your turn now to roar
Timmy:
You get to parade proudly
With this drum and bugle corp.
You find the kids and rile them
I'll give them what they need
Flappy Bob:
How?
Timmy:
Internet!
Flappy Bob:
With this much fun those coneheads
Should be here at break neck speed
Timmy & Kids:
Adults ruin everything
Timmy:
At least that's what I thought
Flappy Bob:
You kids ruined everything
That's the lie I bought
Timmy & Flappy Bob:
But someone else was pulling strings
As far as we could tell
Flappy Bob:
But you and me can set us free
Timmy & Flappy Bob:
Everything is swell!
Community content is available under
CC-BY-SA
unless otherwise noted.