| | | | | |
| --- | --- | --- | --- | --- |
| Episodes | Cast & Crew | Songs | Merchandise | Forum |
Featured Article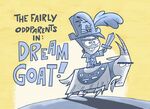 Dream Goat! is the eleventh episode of Season 1. During a trip to the local City Hall, Vicky and Timmy meet the Mayor of Dimmsdale as well as Dimmsdale's city mascot, Chompy the Goat. After seeing how miserable Chompy looks trapped inside his pen, Timmy wishes him free, and he is poofed away by Cosmo and Wanda's magic. But when Vicky is spotted near Chompy's now empty cage, she is accused of kidnapping Chompy and is arrested. While Timmy is portrayed as the town hero, he feels guilty and soon begins to have problems getting to sleep due to nightmares. Due to his lack of sleep, Timmy begins to doze off in class and make disastrous wishes while talking in his sleep that Cosmo and Wanda must grant. As is errant wishing is now putting the town in danger, Timmy must fess up to the people of Dimmsdale that he is the real culprit that freed Chompy, not Vicky, more so after he drifts off to sleep and wishes specifically for a giant city destroying monster that won't go away until Timmy confesses he is a fraud.
See the full article by clicking here.

Recently Featured: Chindred Spirits ♦ Fairly OddPet ♦ FOP Movie ♦ Frenemy Mine ♦ Christmas Everyday! ♦ Kung Timmy ♦ more...
Headlines

Asa97
•
Nickelodeon has scheduled new episodes for the new season of "The Fairly OddParents" this winter.
Here's a full list of every episode coming this winter:
-Friday 1/15 @ 7:30 p.m. "The Big Fairy Share Scare" Due to a loophole in the rules, Timmy must now share his fairies with a little girl named Chloe …
Nickelodeon has scheduled lots of new episodes of "The Fairly OddParents" this Summer. There'll be four weeks of new episodes, leading up to the premiere of the all new live-action movie "A Fairly Odd Summer".
Here's a full list of every episode coming this Summer:
- Monday, 7/7 @ 3:00 p.m.
"Cosmonopoly/ H…

See more >
TooYube
•
Adam West, was an American Actor who played Batman in the hit 60's television series.
In Fairly Oddparents, he played himself, as well as his alter-ego, Catman, from Miss Dimmsdale up until 9 Lives!. …
Hello, Odd people!
It's beginning to look a lot like Christmas, so we have changed our Wiki for the occasion. We have new background, colors and special decoration in the home page. Don't forget to ta…
See more >
( More Wiki News Blogs | More Blogs | More news... )
"You're 0.01% more of a person in my eyes."
—Trixie Tang
Random Image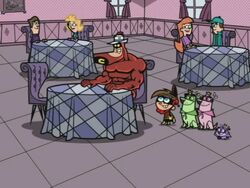 Community Discord
If you see this, your JavaScript might be disabled or DiscordIntegrator plugin isn't working. If the latter, please contact a wiki administrator.
We are also currently building communities in the following languages: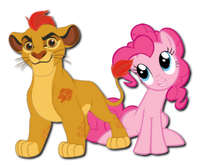 Community content is available under
CC-BY-SA
unless otherwise noted.