The Fairly OddParents, Season 2



Season 2 DVD

Release Date
June 2, 2009
Season
2
Running Time
332 minutes
Stars
Tom Arnold (Santa Claus)
Robert Costanzo (Easter Bunny)
Jay Leno (The Crimson Chin)
Chris Kirkpatrick (Chip Skylark)
Rating
(US) TV-G (Canada) PG
Format
NTSC
Audio
English
Subtitles
English
The Fairly OddParents, Season 2 is a DVD set that contains episodes from Season 2, manufactured through Amazon.com's CreateSpace system. This DVD set contains three discs, with five full episodes on each disc except for disc three, which includes the two full episode specials "Information Stupor Highway" and "Scary Godparents". It was released on June 2, 2009.[1]
Offical summary
This is the official summary from the back of the DVD:
Sit for a spell and tune in to the complete second season - all 25 episodes - of The Fairly OddParents. In this one wacky, wish-filled season, the anti-fairies wreak havoc in Dimmsdale... Timmy tries out-fooling the April Fool himself... and Vicky kidnaps singing sensation Chip Skylark! Plus, this single collection includes the super popular season special episodes "Information Stupor Highway" and "Scary Godparents." And there's lots more, so stop wishing and start watching the complete Season 2 of The Fairly OddParents!"
Menu
Contents
Disc 1
Title card
#
Title
Original airdate

7

"Christmas Everyday!"
December 12, 2001
Because his Christmas is so great, Timmy Turner wishes that it was Christmas every day, but after 15 days everyone gets tired of it because all of the shops are closed and they can't get what they want there. And because of Santa's Christmas holiday taking over, the other holiday mascots are jealous.

8A

"Boys in the Band"
March 1, 2002
Timmy is mad at Dimmsdale's singing sensation Chip Skylark for holding a concert on Timmy's birthday, so the 10-year old plans to hold him hostage using Vicky.

8B

"Hex Games"
March 1, 2002
Vicky, the queen of the skate park, challenges Timmy to a skate duel. If she wins, no one will be allowed in the park. He accepts, but when he finds out that Cosmo and Wanda can't help him win a competition, he gets nervous, as he is a horrible and uncoordinated skater, and Timmy must practice, or no kid will ever be allowed in the ramps again.

9A

"Boy Toy"
March 8, 2002
When Timmy finds an old Crimson Chin action figure of his, he wishes it was alive and he were tiny. But both he and the doll end up in Vicky's yard, and then Vicky's younger sister, Tootie, finds Cosmo and Wanda disguised as dolls, and takes them to their house away from Timmy. And to top it all, Vicky loves to destroy any toys Tootie brings home! Timmy must reunite with his fairies, or he'll be tiny forever.

9B

"Inspection Detection"
March 8, 2002
Because he has the things that were taken from the stores, Timmy is accused of shoplifting. Jorgen Von Strangle then comes for an inspection of Cosmo and Wanda, and if they don't pass, they will be taken away from Timmy. Meanwhile, Timmy is determined to catch the real shoplifter, Francis.

10A

"Action Packed"
March 22, 2002
Timmy has had a very boring week, and after watching an action-packed mystery movie, Timmy wishes for an action-packed life. At first, he is excited and happy, but then he must recover Cosmo and Wanda from an evil, unknown kidnapper, who has a plan to destroy them once and for all.

10B

"Smarty Pants"
March 22, 2002
Timmy wishes he was the smartest kid in the world, but the situation becomes complicated when he is placed in a competition with A.J. and loses his intellect when he realizes that Da Rules forbid magic assistance in winning a competition.

11A

"Super Bike"
May 10, 2002
The father/son bike race is coming up, and Timmy's dad made a bike especially for Timmy to ride. The problem is, it is poorly built and does not even work. Despite Cosmo and Wanda's warnings, Timmy wishes for a Super Bike, and it's definitely super. But it hurts his dad's feelings that he doesn't use the bike he made, and the super bike tries to control Timmy's life.

11B

"A Mile In My Shoes"
May 10, 2002
Being jealous at his godparents for their wonderful lifestyle, Timmy becomes a fairy godparent while Cosmo and Wanda become ordinary children. However, Timmy finds out that being a godparent takes more responsibility than he thought.
Disc 2
Title card
#
Title
Original airdate

12A

"Timvisible"
April 26, 2002
It's the last day of school, and Timmy is getting the perfect attendance award, but Francis is celebrating the last day by beating up all the boys. In order to avoid getting beat up by Francis, Timmy wishes he was invisible. But, Timmy has so much fun being invisible that he forgets about the awards ceremony, and now must rush to get his award. To make things worse, Mr. Crocker is trying to capture him because he could use him as proof that fairies exist

12B

"That Old Black Magic"
April 26, 2002
Timmy goes to an amusement park in Friday the 13th and he figures that something is destroying the park, until Cosmo and Wanda give him special glasses to see the Anti-Fairies, who are causing the problem.

13A

"Foul Balled"
June 7, 2002
Timmy, tired off losing every game because of Chester, wishes that Chester would become a skilled baseball player, but Chester gets on Timmy's nerves when he starts hogging every position and shunning the rest of his team.

13B

"The Boy Who Would Be Queen"
June 7, 2002
Hoping to find the perfect gift for Trixie Tang for her birthday party, Timmy Turner inadvertently wishes himself into a girl and, using his girl mind, heads to the Dimmsdale Mall to find the perfect gift for Trixie. "Timantha" soon realizes that not all girls like girl things when he/she discovers Trixie disguised as boy and shopping for comics, and they quickly become best friends. Meanwhile, Timmy wishes that Wanda and Cosmo would switch genders and become "Cosma and Wando" to get back at them for wishing him into a girl.

14A

"Totally Spaced Out"
July 12, 2002
Timmy is annoyed when Vicky has to come over, so he wishes she could end up millions of miles away. To accomplish this, Cosmo goes to Yugopotamia, where Mark Chang celebrates his birthday. Cosmo tricks Mark into coming to Earth for Vicky, and she is taken away. But when Timmy's parents have a Plan B for babysitting Timmy, which involves Happy Peppy Gary and Betty and Flappy Bob's Peppy Happy Learnatorium, Timmy realizes he needs Vicky back and challenges Mark to Death Combat in order to get her.

14B

"The Switch Glitch"
July 12, 2002
After Timmy Turner's parents break a promise and leave him with Vicky, only for her to torment him again, Timmy wishes that he was the babysitter and Vicky was the child in order to get revenge, but his harsh treatment of Vicky results in Cosmo and Wanda being transferred to Vicky, who uses them to get revenge on Timmy.

15A

"Mighty Mom and Dyno Dad"
September 6, 2002
Timmy, tired of his parents rushing to work and coming home late and tired, thus never having any time for him, wishes his parents had superpowers and they become Mighty Mom and Dyno Dad. Unfortunately, now they are too busy saving the world to even spend time with him. Timmy must now become the ultimate villain, Galactimus, Eater of Planets, to get his parents to give up their powers.

15B

"Knighty Knight"
September 6, 2002
After being ripped off by the Camelot Fair (the knight is shorter than he looks, the Magician is a cleaning product salesmen, and the Dragon is only a dog wearing a dragon mask even it's scared of) Timmy wishes he was in the real Camelot, but Timmy's parents somehow come along with him and are about to be eaten by a dragon!

16A

"Fairy Fairy Quite Contrary"
September 13, 2002
Timmy Turner becomes suspicious of a rich boy named Remy Buxaplenty when he notices that he can be better than him in many situations, even having the ability to be in the Crimson Chin Comic Book. He eventually comes to the conclusion that Remy has a fairy godparent. Unbeknownst to Timmy, Wanda knows who the fairy is but holds her tongue on the little secret, until he wishes she would tell him. Remy's fairy turns out to be Juandissimo Magnifico, Wanda's ex-boyfriend. Upon Remy discovering Timmy has fairies, he becomes jealous of Timmy having two fairies compared to his one, along with parents who love him. To this, Remy challenges Timmy to a Magical Duel, where the loser loses his fairies and forgets he ever had them.

16B

"Nectar of the Odds"
September 13, 2002
Timmy Turner tries selling lemonade to buy tickets to see Crash Nebula on Ice. The only problem: his lemonade tastes horrible!
Disc 3
Title card
#
Title
Original airdate

17A

"Hail to the Chief"
September 27, 2002
Tired of Tad and Chad abusing their privileges as student body co-Presidents, Timmy Turner campaigns against them and wins. All is not easy being student body President, however. His bodyguards (Chester and A.J.) constantly keep him away from Trixie Tang and follow him everywhere, even into a bathroom stall!

17B

"Twistory"
September 27, 2002
Timmy Turner wishes the great American leaders into his house to finish his report, but because they have vanished from history, the United States reverts to being a British colony. Timmy can't wish them back because Cosmo and Wanda's wands are taken for taxes (Taxation Without Representation). Timmy must now use his Time Scooter to get them back to their own time period to stop Benedict Arnold from creating the alternate future.

18A

"Fool's Day Out"
October 11, 2002
Tired of being pranked by everyone (His parents, Cosmo, Wanda, his friends, and the rest of the citizens of Dimmsdale), Timmy Turner summons the April Fool, the ultimate prankster. But, unknowingly to Timmy, once the April Fool starts, he doesn't know when to stop.

18B

"Deja Vu"
October 11, 2002
Tired at always being late, Timmy wishes for a watch that allows him to re-do moments in time, but suddenly he finds himself in massive time-trouble when Vicky finds it and figures out how it works.

19

"Information Stupor Highway"
January 20, 2003
Timmy Turner wants to ask Trixie Tang to the school dance, so he writes her an e-mail. However, when Cosmo and Timmy's parents add their own "improvements" to the letter and send it, Timmy must venture into the Internet to retrieve it before it reaches Trixie's computer. Meanwhile, Mr. Crocker hacks into Timmy's computer and devises an elaborate scheme to record existence of fairy godparents.

20

"Scary Godparents"
October 29, 2002
Timmy and his friend's Halloween costumes are terrible, so he wishes that everyone's costume was real. However, this wish transforms the popular kids into the evil Jack-O-Bots who begin a countdown to destroy Earth! Meanwhile, the Yugopotamians see the humans celebrating Halloween, and fearing an attack they launch an invasion of Earth.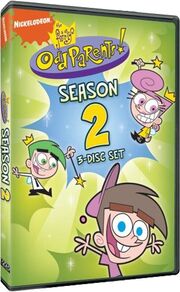 Purchase
This DVD is manufactured through amazon's CreateSpace system. To purchase the DVD you will have to pay $19.99 USD. This is the purchase link Season 2 DVD
Languages
Audio
English
French
Spanish
Italian
Subtitles
English
French
Spanish
Italian
Trivia
References
Community content is available under
CC-BY-SA
unless otherwise noted.