The Fairly OddParents, Season 1



Season 1 DVD

Release Date
June 2, 2009
Season
1
Running Time
142 minutes
Stars
Jay Leno (The Crimson Chin)
Rating
(US) TV-G (Canada) PG
Format
NTSC
The Fairly OddParents, Season 1 is a DVD that contains most of the episodes from Season 1 except for "Christmas Every Day!" which was a separate release. Manufactured exclusively through Amazon.com's CreateSpace system, This DVD contains two discs, with six half-episodes on each disc for a total of twelve, or six full episodes. It was released on June 2, 2009.[1] It was unfortunately discontinued on June 4, 2021.
Official summary
This is the official summary from the back of the DVD:
Your wish has come true! The complete first season of The Fairly OddParents is now available in this episode-packed, 2-disc set. Laugh along as Timmy Turner learns the true meaning of "be careful what you wish for." Visit outer space, go inside a comic book, and set the town goat free! It's LOL comedy as Timmy tries to balance everyday life with everyday wishing, all while trying to keep his fairy godparents under wraps.
Menu
Contents
Disc 1
Title card
#
Title
Original airdate

1A

"The Big Problem!"
March 30, 2001
After becoming rejected from the football team, receiving a babysitter, and bullied by Francis at school, Timmy Turner wishes to be an adult. However, he doesn't like it at all. Being an adult means having to wash dishes, pay for your own food, and see grown-up movies. Since Cosmo and Wanda can only grant wishes for children, they can't be Timmy's fairy godparents and must be assigned to a child. What will Timmy do to save the day?

1B

"Power Mad!"
March 30, 2001
After playing a virtual game with ninja bunnies, Timmy wishes for a game that you can't wish yourself out of. Chester and A.J. then come into his house unexpectedly and go into the game. Timmy has to tell them that they have to either take their helmets off or they have to finish the game, so he goes into the game himself. But when Vicky causes a power surge, will Timmy and his friends be trapped in the game...forever?

2A

"Spaced Out"
April 6, 2001
After Timmy, Chester and A.J. finish watching an episode of Crash Nebula, they try to act it out. To make it funnier, Timmy wishes for an alien. But he is brought a real one, the prince of a planet called Yugopotamia, named Mark Chang. He captures Chester and A.J. (who don't know he's a real alien). Mark also falls in love with Vicky. Timmy must find Mark's parents so they can take him back to Yugopotamia before Chester and A.J. find out the truth!

2B

"Transparents!"
April 6, 2001
Timmy's teacher, Denzel Crocker, calls for a conference with Timmy's parents for a suspicious show-and-tell project. Timmy can't let his real parents find this out, so he gets Cosmo and Wanda to pose as his parents. Crocker, who knows that Cosmo and Wanda are fairies, sets traps for them. However, Principal Waxelplax is the one that gets trapped. She gets mad at Crocker in the end.

3A

"Chin Up"
April 27, 2001
Timmy meets his favorite superhero, the Crimson Chin, by wishing him to life, but the discovery that he is fictional sends the hero into a deep depression.

3B

"Dog's Day Afternoon"
April 27, 2001
Timmy switches lives with Vicky's dog, Doidle, but swiftly discovers that the dog actually has it just as badly as he does.
Disc 2
Title card
#
Title
Original airdate

4A

"A Wish Too Far!"
April 13, 2001
Wanting to fit in and fall in love with popular girl Trixie Tang, Timmy wishes to become popular, but he soon becomes more selfish about his wishes.

4B

"Tiny Timmy!"
April 13, 2001
In order to study about the human body, Cosmo and Wanda shrink Timmy so that he can explore Vicky's human body, but chaos soon ensues. But Timmy seems to turn Vicky into an animal friend loving Princess when he messes with her mind!

5A

"Father Time!"
April 20, 2001
With the Time Scooter, Timmy travels back to the 1970's and see his father as a kid after accidentally destroying a favorite trophy, but the subsequent changes to history erase Timmy from the future, and cause his father to grow up to become a dictator!

5B

"Apartnership!"
April 20, 2001
While celebrating the wedding anniversary of both his parents and godparents, Timmy is forced to travel to Fairy World when Cosmo leaves Wanda due to a misunderstanding caused by the plotting of his mother, Mama Cosma, who wishes to drive the couple apart at all costs!

6A

"Dream Goat!"
May 4, 2001
Feeling that Chompy the Goat needs freedom, Timmy wishes him free. But when Vicky is spotted near Chompy's place, she is accused of setting him free and is arrested. Timmy must get Chompy back!

6B

"The Same Game"
May 4, 2001
Timmy is being made fun of by Dr. Bender and his son Wendell because of his large buck teeth, so he wishes for everyone to look the same. Everyone then turns into gray blobs. Since the fairies cannot find their godchildren, they began exploding and turning into dust. When Cosmo and Wanda go out to look for Timmy, they have no luck (They keep asking Tad). Cosmo then turns to dust and Wanda is about to. Will she find Timmy before she and all of the other fairies turn to dust?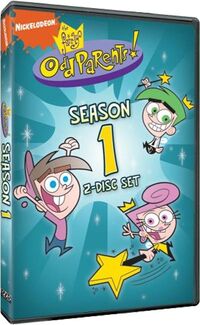 Purchase
This DVD is manufactured through Amazon's CreateSpace system. To purchase the DVD, you will have to pay $19.99. This is the purchase link.
Languages
Audio
English
French
Spanish
Italian
Subtitles
English
French
Spanish
Italian
Trivia
References