Trivia
This is the first episode of the tenth season that Mr. Turner doesn't appear in at any moment.
In the United States, this episode is not available for purchase on iTunes or Google Play, but it's available for purchase on Amazon Instant Video.
It is revealed that Chloe is a huge fan of The Fair Bears.
This is The Fair Bears' first appearance in the series.
International Airdates

This episode premiered in the Philippines on June 10, 2016.
This episode premiered in the United Kingdom on August 18, 2016.
This episode aired in Germany on October 18, 2016.
Allusions
Care Bears - The Fair Bears is a parody to the group of multi-colored bear characters.
Tofurky - The Tofookie that Chloe gives to her friends is a parody of Tofurky, a vegetarian turkey replacement made from a blend of wheat protein and organic tofu.
Honus Wagner - A baseball player named Honus Wagner can be seen in a picture frame getting sucked by Mr. Crocker's Fairy Sucker-Upper invention along with a baseball bat, a rocket, a Mayor of Dimmsdale picture frame, a Crimson Chin action figure, and a baseball.
Running Gags
One of the characters mentioning Chloe's Tofookies.
Continuity
Goofs
The Titlecard shows a Fair Bears VHS tape signed by Chloe, but the episode shows her owning Fair Bears DVDs.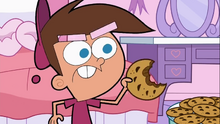 After Timmy says "Something terrible's happening in my mouth!", his eyebrows turn transparent for a single frame, revealing a portion of the background behind him.
Quotes
Cosmo: Hey, Timmy and Chloe, check out this new app. This is what Wanda looks like with a beard!
Wanda: Gentlemen, get in line!
---
Chloe: Let's start the fun with some healthy snacks. (Chloe puts a plate of cookies on a stool)
Timmy: (Timmy proceeds to reach for a cookie and takes a bite out of it, which he then spits out) Something terrible's happening in my mouth, this is not a cookie!
Chloe: It's better. It's a Tofookie, a cookie-like disc made with Tofu and something called Cricket Protein.
Timmy: Why!?
Chloe: Now let's bump up the fun! We're gonna watch the greatest television show ever made, The Fair Bears!
Timmy: That show is the worst, I thought it was cancelled. Why wasn't it cancelled?
Chloe: It was, but I have all 26 seasons on DVD! NEVER TOUCH THEM!
---
Wanda: I don't wanna hurt Chloe's feelings, but those Fair Bears make me wanna cough up my Tofookie. Know what I mean, sport? Sport? (Wanda looks on a couch to see a pillow with Timmy's pink hat on) (The real Timmy is attempting to leave the room) Oh, I don't think so! (Wanda poofs Timmy back to the couch)
Timmy: Busted.
---
Fair Bear (on TV): I'm Fair Bear, and I never cheat.
Chloe: Me, neither! Cus it's wrong!
Better Bear (on TV): I'm Better Bear, and I believe that no matter how good you are, you can always be better!
Chloe: (whispering) That's what I tell everybody!
Timmy: What's with you!?
Happy Ray (on TV): And I'm Happy Ray! Be happy, and that's an order.
Chloe: Sir, yes, sir.
Cosmo: I love The Fair Bears, but I'm not gonna lie guys, Happy Ray scares me a little. Guys? (Timmy and Wanda have been replaced by a pillow and a cushion) (The real Timmy and Wanda are attempting to leave the room)
Wanda: Busted. (Timmy and Wanda are poofed back to the couch)
---
Wanda: Did you eat a Tofookie? Cus those things will turn on ya.
---
Chloe: Am I dreaming, or are you guys actually getting along?
Timmy: We're beary beary good buddies now!
Wanda: I wuv everyone! (Wanda hugs Better Bear)
Timmy: We wore the Happy Hat! With wires, and blinking lights! (Timmy hugs Happy Ray) I smelled smoke.
Chloe: Wait, I've seen every Fair Bears episode like, a bazillion times, and I have never seen a Happy Hat.
Wanda: Who wants a hug?
Timmy: I do, I wuv hugs! The nice bears changed my brain!
Chloe: I'm not sure I'm wuving this. You brainwashed my friends! I can't believe I'm saying this, but... put Timmy's brain back the way it was.
Better Bear: We just made him a better bear! (Timmy hugs Chloe's TV, then Cosmo)
Cosmo: Boundaries, Timmy. You're creeping me out.
Chloe: This is not cool! Turn my friends back to the way they were!
Fair Bear: Hey, Chloe. Your smile turned upside down, maybe you should wear the Happy Hat too.
Chloe: Ahhh! The Fair Bears are bonkers, Cosmo! Poof them away! (Cosmo gets out his wand only to find out it has a portion missing with a bite mark in its place)
Cosmo: Sorry, I ate my wand in my sleep. I thought it was a Tofookie!
---
Fair Bear: That wasn't beary fair.
Better Bear: I could be better.
Happy Ray: Let's sing The Revenge Song.
Community content is available under
CC-BY-SA
unless otherwise noted.