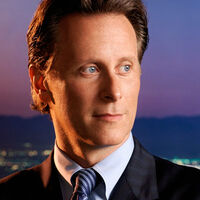 Steven Weber (born March 4, 1961) is an American actor. He is best known for his role in the television show Wings which aired throughout the 1990s on NBC.[1] In A Fairly Odd Movie: Grow Up, Timmy Turner! he plays the main villain, an oil tycoon named Hugh J. Magnate Jr.
Life and Career
The son of a nightclub singer and a Borscht Belt talent agent, it's not surprising that Steven Weber's own love for the limelight emerged at an early age. By the time he was in third grade, the New York City-born Weber was appearing in television commercials. Pursuit of an acting career brought his film debut in The Flamingo Kid and a role on the soap opera As the World Turns. He appeared in the acclaimed war film Hamburger Hill and made his Broadway debut in The Real Thing. But it was the NBC sitcom Wings where Weber soared to national attention, as he and Tim Daly starred for seven seasons as brothers running a one-plane airline in Nantucket.
Weber's acting career has been as eclectic as it is accomplished – whether starring in the television version of Stephen King's horror story The Shining on ABC or appearing years earlier on the same network as JFK in The Kennedys of Massachusetts. His films also demonstrate his wide range, with roles in thrillers Single White Female and The Temp, as the title character in the gay romantic comedy, Jeffrey, and as a sleazy 1930s pimp in Showtime's comic musical Reefer Madness.
Returning to the stage, Weber has played the lead in the hit Broadway musical The Producers, appeared with Kevin Spacey and Mary Stuart Masterson in the London production of National Anthems, and again on Broadway in The Philanthropist. Weber wrapped guest-star roles on Law & Order: Criminal Intent, the new TNT original series, Falling Skies, produced by Steven Spielberg and starring Noah Wyle, and as Lauren Graham's potential love interest on Parenthood. [2]
A Fairly Odd Movie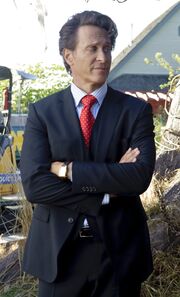 In A Fairly Odd Movie: Grow Up, Timmy Turner!, Weber plays Hugh J. Magnate Jr., a larger-than-life oil tycoon with daddy issues. He comes to Dimmsdale to build an oil rig hotel, but his attention quickly turns to capturing Timmy's fairies and using their power to fuel his maniacal ambition.
References