SpongeBob SquarePants




Gender:
Male
Species:
Sponge
Birthday:
July 14, 1986
Eye color:

     

Blue
Main article: SpongeBob SquarePants at the Encyclopedia SpongeBobia.
SpongeBob SquarePants is the main protagonist, and the eponymous character, of the Nickelodeon animated comedy series of the same name.
He has starred alongside characters from "The Fairly OddParents!" in the Nicktoons video games, "Nicktoons Unite!", "Nicktoons: Battle for Volcano Island" and "Nicktoons: Attack of the Toybots". He also has appeared in several of the Nickmas Shorts.
He and his show have been referenced several times in the show.
Background
When SpongeBob discovers Plankton had taken over the Bikini Bottom, a porthole opens and Goddard comes out right in front of him and Gary, scaring him. His screen opens and Jimmy Neutron appears on it and explains to SpongeBob that Plankton teamed up with the rest of the Nickelodeon villains, Vlad Plasmius, Professor Finbarr Calamitous and Denzel Crocker. SpongeBob then follows Goddard through the porthole to Jimmy's Lab. SpongeBob arrives in Jimmy's Lab where he meets Jimmy, Danny Phantom and Timmy Turner. SpongeBob then teams up with the other Nicktoons on their mission to stop the villains and save their worlds. After the villains were defeated and their worlds were saved, SpongeBob says Jimmy can visit him in the Bikini Bottom anytime and they become friends. SpongeBob meets Timmy and his GodParents again a couple more times in the other Nickoons games. In Nicktoons: Battle for Volcano Island, SpongeBob, Timmy, Cosmo and Wanda and the other Nicktoons team up to stop an evil enemy called the Mawgu. Jimmy Neutron is the only Nicktoon that's not a playable character but instead the one who always makes contact with SpongeBob, Timmy, his GodParents and the other Nicktoons. In Nicktoons: Attack of the Toybots, he, Patrick and Tak find Timmy and his Fairy GodParents in Calamitous' Toybot Factory and save them. He, Patrick and the rest of the Nicktoons then battle their way to fight of Calamitous' Toybot army.
Other Appearances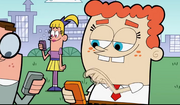 While he has does not officially appear in-series, a human look-a-like briefly appears on-screen in App Trap.
Community content is available under
CC-BY-SA
unless otherwise noted.