This article is under construction.

This article is currently in the middle of an expansion or major revamping. You can help the FOP Wiki by contributing to it.
Space Ca-Dad
Season 10, Episode 25



Timmy's dad is Scout leader in space

Prod. Code:
166b
Premiered:
December 10, 2016
January 8, 2017
February 7, 2017
February 8, 2017
February 9, 2017
March 10, 2017
March 13, 2017
March 27, 2017
May 5, 2017
July 19, 2017 (Nicktoons)
January 13, 2018
April 4, 2018 (Nickelodeon)
July 7, 2018
Wish:
that the group should magically go into space with all the supplies
Headgag:
Mailbox
Credits
Created by:
 
Butch Hartman
Written by:
 
Ellen Byron
Bob Colleary
Ray DeLaurentis
Lissa Kapstrom
Storyboard by:
 
Steve Daye
Directed by:
 
George Elliott
Keith Oliver
Produced by:
 
Karen Malach
George A. Goodchild (supervising producer)
Ray DeLaurentis (coordinating producer)
Music Direction:
 
Guy Moon
Space Ca-Dad is the twenty-fifth episode of Season 10.
Plot
The Squirrely Scouts go flying into space to plant a flag on unfamiliar terrain. They are hoping to achieve a special Squirrely Scout badge and status. Problems begin when Timmy's dad throws out the back-packs- which are the fairies in disguise. How will they get back home?.[1]
Synopsis
This section requires expansion with:
upcoming.
Timmy
and
Chloe
are playing together by riding motor-bikes. The motor-bikes are actually Cosmo and Wanda disguised as motorbikes.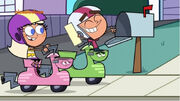 Timmy checks the mail and finds good news. Now they want to plant a flag in order to get a scout badge. They see that flags were already planted everywhere... even under Timmy's bed. Timmy wishes that they would go flying into space. The fairies disguise themselves as back-packs and provide all the equipment including the rocket. They fly into space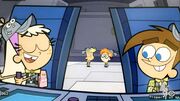 and then...
(To be continued by me or by others)
Additional Information
Cast
References
Community content is available under
CC-BY-SA
unless otherwise noted.