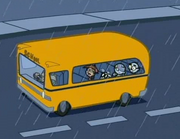 The school bus is a vehicle that is featured as the setting of many scenes in The Fairly OddParents.
Information
Timmy Turner rides the school bus every morning with his classmates. Most of the time he is plotting ways to get the attention of Trixie Tang, who regards him and his friends as "empty bus seats". The bus ferries students to and from Dimmsdale Elementary School who don't have a ride from their parents or siblings.
Description
The bus is a typical yellow school bus with rows of seats on each side of a central aisle. It slightly represents a Crown Coach made from 1946 to 1991 The bus driver announces the arrival of popular student Trixie Tang whenever she steps onto the bus with an intercom.
Background
The school bus is notably featured in the title sequence of The Fairly OddParents, where Timmy is seen sitting miserably surrounded by happy, playing kids. As Timmy steps off the school bus he is hit by a ball, and falls face first into a puddle.
The school bus is also seen in episodes like A Wish Too Far, Mr. Right!, and Movie Magic where Timmy Turner is trying to get Trixie's attention, usually by asking her to sit next to him. She passes by him and regards him as an empty bus seat. The popular kids have a section in the back of the bus with a jacuzzi and a dance floor.[1] Chester and A.J. also ride the school bus, as does Elmer the boil kid. Sanjay and Tootie have been suggested to ride it, as they were at Timmy's bus stop, but they have never been seen on the bus in any episodes where it was shown so far.[2]
See also
References
Community content is available under
CC-BY-SA
unless otherwise noted.