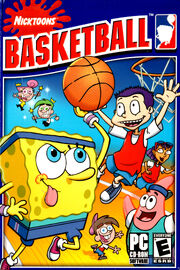 Nicktoons Basketball
is a video game for the PC, released on September 11, 2004. It is based on many Nickelodeon animated shows. It is the third
Nicktoon
game to be released by ImaginEngine, and also the first by Digital Eclipse.
Playable characters
SpongeBob SquarePants
The Fairly OddParents
Jimmy Neutron
Others
Unlockable
Tak (from Tak and the Power of Juju)
Tak is unlocked once one series is won.
Courts
Jimmy's Lab [Jimmy Neutron's universe]
The Dimmsdale Elementary School [Fairly Oddparents' universe]
Ocean Shores [Rocket Power's universe]
Retroville [Jimmy Neutron's universe]
Sandy's Treedome [SpongeBob's Universe]
Fairy World [Fairly OddParents' universe]
Underground Burial [Tak's universe]
Bikini Bottom Island [SpongeBob's universe]
Trivia
This game was released five years after the premiere of "Nature Pants" and "Opposite Day."
Community content is available under
CC-BY-SA
unless otherwise noted.