Trivia
Allusions
The title is a pun on the word, "Moving Day".
Running Gags
Anything that gets burped on by Timmy will grow wings and fly away.
People psychotically smiling while they are in a trance.
People trying to get other people (mostly Timmy) to drink the milk.
Goofs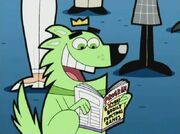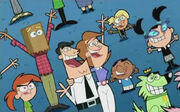 In the back and forth scenes between Cosmo and Wanda at the end of the episode, Tootie's legs can be seen behind them but she is almost as tall as Mrs. Turner.
The puddle of milk Timmy dropped changes size between shots.
Clearly, Cosmo and Wanda both wished up a wish for Mrs. Turner, but Da Rules say that fairies can only grant wishes to kids.
When the scene of everyone cheering to Timmy at the burp contest is shown, a lot of goofs were in the scene:
Mrs. Turner's Magic touch gave the farmer bags of money, but fairy magic can't be used to poof up money as that could be stealing or counterfeiting.
When Cosmo and Wanda shout "Gasp!", original captions read BAD!
Community content is available under
CC-BY-SA
unless otherwise noted.