Megan Bacon





Adult Megan, under her "Caped Bacon" outfit

Gender:
Female
Species:
Human
Hair color:

     

Red
Eye color:

     

Elm
Personal Information
Affiliations:
 
The Cake & Bacon
Occupation:
 
Owner of the The Cake & Bacon
Residence:
 
Dimmsdale
Homeworld:
 
Earth
Aliases:
 
Megan Bacon
Enemies:
 
Cosmo
Wanda
Interests:
 
Bacon
Goal:
 
To get revenge on Cosmo and Wanda (only in an alternate universe)
Family
Fairy Godparents:
Cosmo and Wanda (former)
Megan Bacon is a character that only appears in The Past and the Furious.
Character
Megan Bacon was one of Cosmo and Wanda's former godchildren who, in her adult years, would be the founder and creator of The Cake & Bacon Restaurant.
Description
As a child Megan is a red haired girl who hair was form into pigtails, had freckles and braces. She also wore a yellow shirt with a picture of bacon on it, a purple crown with three skulls, a red cape, fingerless gloves, and a purple tutu with purple ballerina shoes to match. Her voice has a New York/Brooklyn/New Jersey accent, so she sounds like a gangster/gunmoll.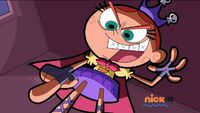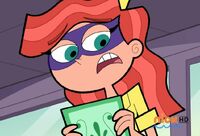 After Timmy wished he never interacted with her and she made the Cake and Bacon, Megan is shown to wear a standard yellow waitress uniform and hat but maintains her purple mask.
Alter-ego(s)
Caped Bacon
In her adult years (in an Alternate Dimmsdale where she's a villain and did not create the cake and bacon) Megan was shown to have lost her freckles and braces, her red hair now resembles strips of bacon, and wore a villainess outfit that contains a purple mask, dark red cape, a long-sleeve purple shirt with a picture of a bacon on it, white leotard pants and purple ballerina shoes.
Community content is available under
CC-BY-SA
unless otherwise noted.