Love Meter



Wanda holding up the Love Meter at the beginning of the movie.

Uses:
Finds out if someone is or isn't in love.
Additional Information
Created by:
 
Wanda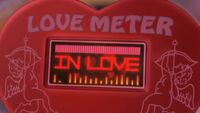 The love meter is an instrument featured in A Fairly Odd Movie: Grow Up, Timmy Turner! It is used to measure how much love a person is feeling to find out if this person is in love or not. Over the course of the movie, Wanda uses the device to see how much Timmy is in love with Tootie.