---
Revision as of 16:55, 12 January 2020
#
A
B
C
D
E
F
G
H
I
J
K
L
M
N
O
P
Q
R
S
T
U
V
W
X
Y
Z
All episodes: Expanded View · List View · Premiere Order
The ninth season of The Fairly OddParents! consists of 26 half hours, most of them divided into segments of 11 minutes, making it the largest production order for a Fairly OddParents! season ever.[1]The recording for the season began in June 2012[2], and all the episodes were produced in high definition.

The season began on March 23, 2013, with the premiere of "Fairly OddPet". The official run first began on May 4, 2013, with new episodes airing on Saturdays at 9:30 AM. [3] It ended on March 28, 2015 with the airings of "Fairly Old Parent" and "The Fairy Beginning".
This season introduced Sparky, and is the first season to include Poof in the opening sequence - although it's also the first after his birth to have him absent in some episodes.
According to a number or sources, the decision was made to remove Sparky from the show after this season, making it the only one where his character is present, and making Man's Worst Friend his final appearance. The reason for this decision is related to higher-ups making the decision based on his reception from Nick and from fans.
Casts and Crew
Main article: List of The Fairly OddParents! Cast and Crew Members.
Character Debuts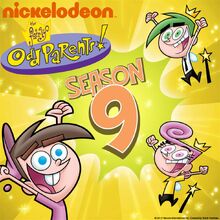 One Time Characters
Fairly Odd Fairy Tales Characters
Episodes
Title card
# in Season (Total)
Title
Original airdate
Production code
U.S. viewers
(million)

1 (201)
"Fairly OddPet"
March 23, 2013
127
3.9[4]
Timmy adopts a mischievous and magical fairy dog named Sparky. However, owning a fairy dog proves to be a much bigger challenge than Timmy could have ever predicted.
First Appearance: Sparky
Starring: more...
Headgag: Sparky

2 (202)
"Dinklescouts"
April 14, 2013
128A
2.1[5]
Timmy wishes that Mr. Dinkleberg would replace Dad as Squirrely Scout leader. Mr. Turner still comes with them and gets himself into trouble.
Starring: more...
Headgag: Walrus

3 (203)
"I Dream of Cosmo"
April 14, 2013
128B
2.1[5]
Cosmo loses his memory and mistakenly thinks he is a genie and is supposed to grant wishes for Mr. Turner.
Starring: more...
Headgag: Walrus

5 (205)
"Dumbbell Curve"
May 11, 2013
129B
3.0[6]
Crocker grades on a bell curve so Timmy wishes everyone was dumber than him. Unfortunately, a meteor threatens Earth and Timmy is the only one smart enough to stop it.
Starring: more...
Headgag: Toilet

6 (206)
"The Terrible Twosome"
June 1, 2013
130A
3.2[7]
Poof is going through the Terrible Twos! Can Wanda and Cosmo calm him down?
Starring: more...
Headgag: Toilet

7 (207)
"App Trap"
June 8, 2013
130B
2.8[8]
Timmy wishes for a cool new smartphone, but its so advanced it might replace his fairies.
One Time Appearance: Chatty
Starring: more...
Headgag: Toilet

8 (208)
"Force of Nature"
June 15, 2013
131A
3.0[9]
Timmy helps clean up a park and angers the animals when he wishes they would keep things tidy on their own.[10]
Starring: more...
Headgag: Fire Hydrant

9 (209)
"Viral Vidiots"
June 22, 2013
131B
3.2[11]
Crocker kidnaps Mrs. Turner because he thinks she's a troll who possesses magic.[10]
Starring: more...
Headgag: Fire Hydrant

10 (210)
"Scary GodCouple"
October 19, 2013
132
3.0[12]
Foop becomes Vicky's scary godparent. Vicky and Foop terrorize Timmy and the kids of Dimmsdale. Foop tells Vicky that the reason Timmy has thwarted her all these years is because he has fairy godparents. If they can destroy the fairies, no one will be able to stop them.
Starring: more...
Headgag: Sparky

12 (212)
"Anchors Away"
July 25, 2014
133B
1.6
Chet Ubetcha sees Timmy's wishes, but before he can tell anyone, the wishes are unwished, causing him to look crazy and lose his job. Mr. Turner becomes the new anchorman. Timmy must get Chet back in order to save the city.
Starring: more...
Headgag: Octopus

13 (213)
"Finding Emo"
July 9, 2014
134A[13]
1.6[14]
To impress a girl named Missy, Timmy makes a wish to become emo and stops caring about everything.
One Time Appearance: Missy
Starring: more...
Headgag: Vicky turns into Sparky

14 (214)
"Dust Busters"
July 9, 2014
134B
1.6
Timmy's house gets filled with magic dust from wishing, so Timmy and his Godfamily try to clean it up. Mr. and Mrs. Turner are taken to a fake spa by a disguised Jorgen to rid them of the dust they have been exposed to.
Starring: more...
Headgag: Vicky turns into Sparky

15 (215)
"The Bored Identity"
July 23, 2014
135A[13]
1.8[15]
Timmy tries to inject excitement into his dad's life by wishing it were an action movie.
One Time Appearance: Jason Bored
Starring: more...
Headgag: Fire Hydrant

16 (216)
"Country Clubbed"
July 23, 2014
135B
1.8
After Mr. and Mrs. Buxaplenty hit Mr. and Mrs. Turner, Timmy's family is invited to their country club, where Cosmo battles with a gopher and Timmy experiences life as a socialite.
Starring: more...
Headgag: Fire Hydrant

17 (217)
"Dog Gone"
July 28, 2014
136A[13]
1.8[16]
Mr. Turner won't sell Sparky to his boss, so Mr. Turner's job becomes unbearable.
Starring: more...
Headgag: Toilet

18 (218)
"Turner Back Time"
July 28, 2014
136B
1.8[16]
After Timmy finds out that his great great grandfather, Ebeneezer Turner, could have chosen to be a railroad tycoon, Timmy wishes that he chose that, which leads to his family being super wealthy.
Starring: more...
Headgag: Toilet

19 (219)
"Cosmonopoly"
July 7, 2014
137A[13]
1.6[14]
Timmy, his father and the fairies get stuck in a board game created by Cosmo. They must win the game before Mrs. Turner destroys the game and them!
Starring: more...
Headgag: Toilet

20 (220)
"Hero Hound"
July 7, 2014
137B
1.6
Timmy wishes that Sparky would get a chance to be heroic. Dad thinks that he can talk to animals.
Starring: more...
Headgag: Toilet

21 (221)
"A Boy and His Dog-Boy"
July 8, 2014
138A[13]
1.7[14]
Timmy wishes that Sparky becomes human. Now, Timmy must be a dog in Sparky's place. To make matters worse, as a dog, Timmy has many problems. How will they switch back?
Starring: more...
Headgag: Toilet

22 (222)
"Crock Blocked"
July 8, 2014
138B
1.7
Timmy wishes that Mr. Crocker would disappear. Now Mr. Crocker continues trying to catch his fairies while invisible! How can Timmy stop him?
Starring: more...
Headgag: Toilet

23 (223)
"Weirdos on a Train"
July 29, 2014
139A[13]
1.7[17]
Crocker and Timmy's Dad plan to lead Dinkleberg to a dangerous place. Can Timmy save him in time?
Starring: more...
Headgag: Toilet

24 (224)
"Tons of Timmys"
July 29, 2014
139B
1.7
Timmy goes to Planet of the Dads, for "take your son to work day." He escorts many of his dads to their job, until he feels fed-up. He wishes for each dad to have a Timmy, instead of just himself. His copies abduct Timmy's fairies. How will he rescue his fairies?
Starring: more...
Headgag: Toilet

25 (225)
"Let Sleeper Dogs Lie"
July 14, 2014
140A[13]
1.9[18]
Crocker discovers that he had programmed Sparky to find his fairies (when Crocker had reached the age to lose his fairies) and to get his fairies back. When Sparky is with Timmy, and hears the activation word, Sparky brings Cosmo and Wanda to Crocker. How will Timmy free them and prevent Sparky doing it again?
Absent: Poof
Starring: more...
Headgag: Vicky turns into Sparky

26 (226)
"Cat-Astrophe"
July 14, 2014
140B
1.9
Catman mistakes Sparky for his old archenemy Dogman, so he captures Sparky. To make matters worse, Cosmo and Wanda get captured in a butterfly net. How will Timmy free Sparky?
Absent: Poof
Starring: more...
Headgag: Vicky turns into Sparky

27 (227)
"Lame Ducks"
July 30, 2014
141A[13]
2.2 [19]
Mr. Turner starts a neighborhood watch program to catch a burglar that is stealing stuff all around Dimmsdale, but Mr. Turner ends up harrasing half of Dimmsdale.
Starring: more...
Headgag: Toilet

28 (228)
"A Perfect Nightmare"
July 30, 2014
141B
2.2[19]
Timmy tries to win a contest by wishing that he had the perfect family.
Absent: Poof
Starring: more...
Headgag: Toilet

29 (229)
"Love at First Bark"
July 21, 2014
142A[13]
1.5[20]
Sparky is forbidden from dating Dinkleberg's new dog.
Starring: more...
Headgag: Sparky

30 (230)
"Desperate Without Housewives"
July 21, 2014
142B
1.5
Timmy wishes all women away to end his mom's constant nagging.


Absent: Sparky.

Starring: more...
Headgag: Sparky

31 (231)
"Jerk of All Trades"
July 15, 2014
143A[13]
1.8[21]
Timmy gets Jorgen fired. He helps Jorgen find a new job.
Absents: Poof and Sparky.
Starring: more...
Headgag: Toilet

32 (232)
"Snack Attack"
July 15, 2014
143B
1.8
Sparky makes his own magic dog treats. Crocker tries to buy one million of them in order to make a wish.
Absent: Poof
Starring: more...
Headgag: Toilet

33 (233)
"Turning Into Turner"
July 16, 2014
144A[13]
1.9[20]
Using Timmy's DNA and his sick mother's DNA, Crocker pretends to be Timmy from the future.
Absent: Poof
Starring: more...
Headgag: Sparky

34 (234)
"The Wand That Got Away"
July 16, 2014
144B
1.9
Cosmo loses his wand and Timmy and the gang must help find it before Crocker does.
Starring: more...
Headgag: Sparky

35 (235)
"Stage Fright"
July 22, 2014
145A[13]
1.6[20]
After deciding she wants to be an actress, Vicky forces Timmy to help her get her first role.

Absent: Poof

Starring: more...
Headgag: Walrus

36 (236)
"Gone Flushin'"
July 22, 2014
145B
1.6
Dad flushes Timmy and the fairies down the toilet.
Starring: more...
Headgag: Walrus

37 (237)
"Fairly Old Parent"
March 28, 2015[22]
146[23]
1.95[24]
Poof has developed enough magic power and receives his first job. He will become the Fairy GodFather of Mrs. Crocker. Timmy and Poofs parents, Cosmo and Wanda, are so unhappy about that, they risk everything to fetch Poof back. But since fairy godparents are always sent to unhappy people, they must ensure that, for the first time, Mrs. Crocker is happy.[25]
Starring: more...
Headgag: Fire Hydrant

38 (238)
"School of Crock"
May 26, 2014
147[13]
2.5[26]
Mr. Crocker becomes a teacher at Spellementary School; Poof begins to learn how to talk.
Starring: more...
Headgag: Walrus

39 (239)
"Dimmsdale Tales"
July 18, 2014
148[13]
1.8[27]
When Mr. Turner forgets all of the supplies for the Squirrely Scouts camping trip, Timmy tries to smooth things over with scary stories around a campfire.
Absent: Poof

Starring: more...
Headgag: Toilet

40 (240)
"The Past and the Furious"
July 11, 2014
149[13]
2.1[28]
Cosmo and Wanda bring Timmy to past times. They meet some of the fairies' former Godchildren. Problems begin when Timmy distracts them and thus alters the future. How will Timmy fix all the changes of the past? How will he defeat the dangerous villainess named "Megan Bacon"?"
Absent: Poof
Starring: more...
Headgag: Vicky turns into Sparky

41 (241)
"The Fairy Beginning"
March 28, 2015[29]
150[30]
2.03[31]
Cosmo loses his fairy diploma because they notice that he did not present his final school assignment. Timmy will lose Cosmo, unless they look at Cosmo's past at the Fairy Academy! How will Timmy convince Jorgen to allow Cosmo to stay with him?!
Absent: Poof

Starring: more...
Headgag: Parrot

42 (242)
"Fairly Odd Fairy Tales"
August 1, 2014
151[13]
2.1 [32]
When Poof has trouble falling asleep, Wanda tries to help by reading him a book of classic fairy tales with a fairly odd twist.
Starring: more...
Headgag: Sparky

43 (243)
"Man's Worst Friend"
February 8, 2015
152[33]
1.5[34]
Foop wants to overthrow the Turners in misfortune and has a brilliant idea: he exchanges Sparky for Anti-Sparky. Because it works so well, the Anti-Fairy Council orders him to exchange all domestic animals in Dimmsdale for evil ones. Chaos and misfortune are the result.[35]
Absent: Poof
Starring: more...
Headgag: Vicky turns into Sparky
Trivia
References