Print Media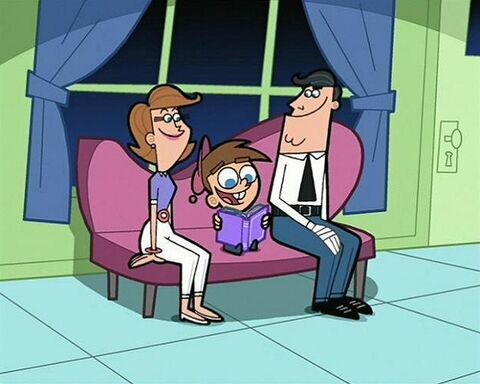 This is a list of The Fairly OddParents print media, including comic books, chapter books, and picture books, released for The Fairly OddParents.
Comics
Nickelodeon Magazine
These comics were published in the now defunct Nickelodeon Magazine.
Nickelodeon Magazine Presents / Nickelodeon Comics
International
The Los Padrinos Mágicos comic book
Comic books released in Mexico and Latin America, in Spanish, with stories featuring characters from "The Fairly OddParents" (Los Padrinos Mágicos in Spanish).
Issue
Story title
English Translation
Issue #1
El devorador de basura
The Garbage Eater

El servicio de niñera de Vicky

The Babysitter Vicky
Issue #2

Amor de Playa

Love Beach

Vieja Tradicion Familiar

Old Family Tradition
Issue #3

¡Aguas Peligroasas!

Dangerous Waters

El Regalo Perfecto

The Perfect Gift
Issue #4
Un Cuento de Hadas
A Fairy Tale

¡¡Misión Catuna!!

Mission Catuna
Issue #5

¡Dulzura Extrema!

Sweetness Extreme

¡La Magia Del Futbol!

The Magic of Football
Issue #6

La Pijamada de Timanta

The Sleepover of Timantha
Fiebre de Celular
Celluar Fever
Issue #7

¡Un Buen Negocio!

A Good Business

Juego de Personalidades

Game Personalities
Issue #8

Una Antibromo Magica

A Magic Antibromo

Cosmo el Recluta

Cosmo the Recruit
Issue #9
Una Mascota Peligrosa
A Dangerous Dog

El Gran Escapa de Apa

The Great Escape Apa
Issue #10
La Vengaza del Doctor Vulcan
The Revenge of Dr. Vulcan

El Canot de Amor, por Wanda

The Song of Love by Wanda
Os Padrinhos Mágicos em Quadrinhos
Comic books released monthly on Brazil, in Portuguese, from February 2007 to March 2010, with stories based on episodes of "The Fairly OddParents" (Os Padrinhos Mágicos in Portuguese).
Books
8x8 Storybooks
Ready-to-Read Storybooks
Chapter books
Coloring books
Cine-Manga books
Miscellaneous books