---
Revision as of 16:50, 12 January 2020
#
A
B
C
D
E
F
G
H
I
J
K
L
M
N
O
P
Q
R
S
T
U
V
W
X
Y
Z
All episodes: Expanded View · List View · Premiere Order
The Fairly OddParents!, Season 0

The logo for Oh Yeah! Cartoons
Series:
Oh Yeah! Cartoons
Original run:
September 4, 1998–March 23, 2001
Production Information
Production studio:
 
Frederator Studios
No. of episodes:
 
10
Network:
 
Nickelodeon (1998-2001, reruns 2001-2004)
Nicktoons (Reruns 2002-2004, 2017-2018)
Country:
 
USA
DVD Release:
 
2005-2007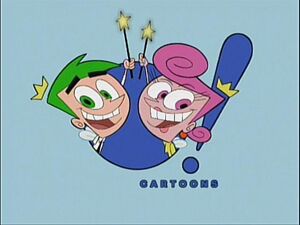 The Fairly OddParents! originally aired as a series of 7-minute shorts on Oh Yeah! Cartoons, these shorts are collectively known by the fandom as Season 0, which ran from September 4, 1998 to March 23, 2001. The last short aired a week before the official series premiere. Each short is available on DVD. "The Fairly Odd Parents!" is the pilot of the series showcasing the debut appearances of Timmy Turner, Cosmo, Wanda and Vicky. It is also the shortest season in terms of episode time and season time total, with each short being around 7 minutes long.
Character Debuts
These cartoon shorts debuted a number of recurring characters, a handful of which would continue to be used for the entirety of the series. Some other characters were introduced but never made it into the main series, while most other characters were completely changed in appearance. Only Timmy, Cosmo, Wanda, Vicky, and Jorgen remained the same, and even then they underwent major cosmetic changes by Season 1:
One Time Characters
Episode shorts
Title card
# in Season (Total)
Title
Original airdate
Production code
U.S. viewers
(million)

0-1 (0-1)
"The Fairly OddParents! (episode)"
September 4, 1998
000-001
N/A
Timmy Turner is a ten year old boy. His parents hire Vicky to babysit him. She makes him work hard. After that, in frustration, he throws his Magic 9-Ball against the wall of his room. It opens... revealing two Fairy Godparents named Cosmo and Wanda. They introduce themselves. They can magically grant wishes! What will Timmy wish for?
Debut Appearance: Timmy Turner, Cosmo Cosma, Wanda Fairywinkle-Cosma, Vicky, Mr. Turner and Mrs. Turner (faces not shown)
Starring: more...
Headgag: —

2 (2)
"Too Many Timmys!"
September 25, 1998
002
N/A
When Timmy's parents leave and hire Vicky to babysit him, Vicky claims that she hurt her back, so Timmy must take care of her. She takes advantage of this by requesting Timmy do many, many tasks. Timmy feels like the work is too much, hence he wishes up 45 (and a half) copies of himself to share the workload. If Vicky realizes there are many copies, then how will he keep the fairies a secret?
Starring: more...
Headgag: —

3 (3)
"Where's the Wand?"
October 2, 1998
003
N/A
While Timmy, Cosmo, and Wanda are playing Greenbeard, Wanda's wand accidentally falls out the window and ends up with Vicky, who uses Wanda's wand as a prop for her fairy costume at her High School costume party. Timmy needs to get back the wand since it is granting Vicky's wishes.
Starring: more...
Headgag: —

4 (4)
"Party of Three!"
January 2, 1999
004
N/A
Timmy convinces his parents that he is old enough to take care of himself and does not need a babysitter. His parents send Vicky home. Now Timmy wishes for a party. Vicky spies on him and calls his parents back, hoping to get Timmy in trouble and get her job back.
Starring: more...
Headgag: —

5 (5)
"The Fairy Flu!"
May 1, 1999
005
N/A
Timmy is invited to Tootie's birthday party and forced to attend by his parents much to his annoyance. Timmy dislikes Tootie because she is weird and worst of all, she is Vicky's little sister, meaning he has to spend the day at Vicky's House. Worse, Cosmo and Wanda get the fairy flu, causing them to cause random magic whenever they sneeze, and disaster arises when they turn Vicky into a fire breathing dragon. There is only one thing that cures the fairy flu: sauerkraut.
First Appearance: Tootie
Starring: more...
Headgag: —

6 (6)
"The Temp!"
July 24, 1999
006
N/A
Cosmo and Wanda must return to Fairy World to renew their Fairy Godparenting Licenses, and are put through grueling training by the toughest fairy in the universe, Jorgen Von Strangle. In the mean time, Timmy's godparents are replaced by an elf who can only use magic to make toys.
Debut Appearance: Jorgen Von Strangle, Jeff the Elf, Santa Claus
Starring: more...
Headgag: —

7 (7)
"The Zappys!"
December 31, 1999
007
N/A
Cosmo and Wanda are nominated for a Zappy Award. They attend an awards ceremony hosted by Billy Crystal Ball. Jorgen, his girlfriend the Tooth Fairy, Jorgen's godson Winston, and Santa Claus also attend. Meanwhile, Timmy loses his loose tooth.
Debut Appearance: Tooth Fairy, Billy Crystal Ball, Winston
Starring: more...
Headgag: —

8 (8)
"Scout's Honor"
January 17, 2000
008
N/A
While on a wilderness camping trip with the Squirrel Scouts, Timmy Turner tries to earn his "Capturing a Mythical Creature scout badge"; Not far along from his camp, Vicky is torturing her own scout group, the Cream Puffs. Vicky notices Timmy and decides to dress up like Big Foot to scare him.
Starring: more...
Headgag: —

9 (9)
"The Really Bad Day!"
December 8, 2000
009
N/A
For one day in a certain number of years, a fairy godparent has to be "bad," and it is Cosmo's turn. There is just one problem: he is horrible at being "bad." Timmy and Wanda try to help him. So they enlist in the help of the conqueror Genghis Khan to teach him how to be bad, and soon Cosmo has a plan to blow up the earth.
Starring: more...
Headgag: —

10 (10)
"Super Humor"
March 23, 2001
010
N/A
Timmy wishes that he had superpowers like the Crimson Chin from his comic books. He battles a monster and tries out a number of powers, until he wishes for super vision and ends up back with his parents: supervision.
Debut Appearance: The Crimson Chin
Starring: more...
Headgag: —
Gallery
DVD releases
Trivia
During the first season of the regular series run, these shorts, with the exception of Where's the Wand were repackaged into three "shorts" episodes, though they were never actually included with Season 1. This was, likely, because the first season had so few episodes. In these versions of the shorts, Timmy's lines were redubbed by his current voice actress, Tara Strong.