Fairy Magic is the source of and what gives fairies their abilities. This includes flying, conjuring objects, shape-shifting, "poofing" (teleportation), and even bending the space-time continuum itself.
Information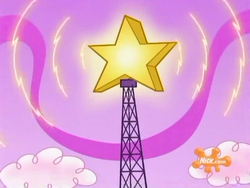 The source of all Fairy Magic comes from The Big Wand. The Big Wand is powered by the human belief in fairies, specifically the energy from all the crazy people on Earth who believe in fairies.[1] Originally, Mr. Crocker by himself provided enough of this energy to power all of Fairy World, but when he stopped believing in fairies, The Big Wand lost its magic, and Fairy World started to plunge into Giant Bucket of Acid World residing below it. After Mr. Crocker was driven crazy again by fairies, Jorgen promised to drain power from Crocker-like people from around the Earth instead of just him.
Fairies need their wands to use most of their abilities such as shape-shifting, wish granting, etc. They do not need them to float, and appear to be able to at least be able to "poof" themselves from place to place without them[2]. They only seem to lose these abilities if the Big Wand loses power. Fairy Wands appear to supply magic of their own as well, as humans and other creatures can operate them without fairies[3], however humans appear to typically be unable to operate wands properly[4], likely due to not having much experience with magic.[5]
While all fairies have fairy magic, Fairy Godparents typically have stronger magical powers than those who aren't. They are specially trained at the Fairy Academy to grant wishes for their godchildren.
Abilities and Usages
Shape-shifting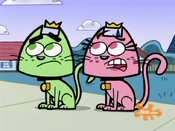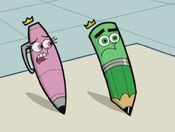 Shape-shifting is a fairy and an anti-fairy's ability to alter their physical shape and appearance, allowing them to change themselves into various inanimate objects, animals, and even other people. Fairy Godparents use this ability to disguise themselves as an item or as their godchild's pet and Anti-Fairies use this power to better cause misfortune. All fairies and anti-fairies have the ability to transform by using magic due to an organ called the Fagiggly Gland. When they transform, a fairy or anti-fairy will typically retain their signature color (usually their hair and eye color) and, in the case of disguising themselves as objects, their face will appear on the surface of said object they disguise themselves as. Fairies also have the ability to transform their godchild and/or other humans, as shown on several occasions with Timmy, Vicky, Chloe, etc.
Poofing (Teleportation)
"Poofing" is the name given to the Fairies' ability to teleport themselves, people, and objects to and from locations using their magic. They can even transport people to other planets, such as Fairy World and Yugopotamia, easily and instantaneously. Anti-Fairies also have and can use this ability unless they are sealed in a magic secure area such as Abracatraz.
Wishes
Wishes are a Fairy Godparent's most important ability. Their godchild can wish for them to not only do the things above, but also create objects, vehicles, and even people, as long as the wish falls within Da Rules. Godchildren cannot wish for people to fall in love with them, nor can they use magic to cheat in a competition. Timmy and other godchildren seem to be able to use their magic to harm others, whether in self-defense or just causing trouble.
The godchild must be very careful of what they wish and how they word it, as wishes can easily be misinterpreted and/or can have unforeseen implications. Both of which can often create dangerous situations for the godchild, fairies, and others.
Healing and Restoring
Fairies are able to easily and quickly heal themselves if hurt or injured. They also are able to heal their godchildren and other humans as well using their magic.
They also are able to repair or restore objects and rooms at will or when a godchild wishes for it. They often use it to set things back to normal after a wish goes awry.
Fairies also use magic to reproduce, and can have a child simply by their godchild wishing for it. See the Fairy Pregnancy page for more details.
Memory wipe
Also known as forgetacin, this is the end result of most wishes gone wrong: Simply erase everyone's memory of what happened. The same thing happens to a godchild that loses his or her fairies due to age, lack of unhappiness, or a serious violation of Da Rules. This way of returning the show to status quo happens in nearly every single episode or movie, and the few episodes that don't follow this are simply ignored anyways (Example: The world being destroyed at the end of One Man Banned).
Weaknesses
There are objects, forces, or creatures that are immune to or can resist the effects of fairy magic.
Butterfly Nets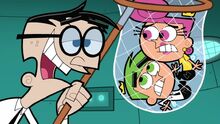 Butterfly nets are one of the few things in the universe that fairy magic has no effect on.[6] According to Wanda, if it floats and has wings, a butterfly net can catch it - this yields true for fairies, and can capture and contain a fairy as their magic is useless when trapped in one. Because of this, they are a common tool used to capture or trap fairies. Mr. Crocker has used them on several occasions to capture fairies[6][7], and another Fairy Hunter, Ms. Doombringer carries a butterfly net in her arsenal of fairy hunting weaponry[8]. Remy Buxaplenty also held Cosmo and Wanda captive in a butterfly net during the events of Operation F.U.N. In "Viral Vidiots", when Timmy's mom had been captured by Mr. Crocker (believing her to be a magical creature), Timmy tried to wish her out but his cave had been covered by a butterfly net so that fairy magic wouldn't work.
Other Fairy Hunting Weaponry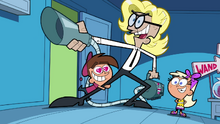 Denzel Crocker has created several inventions that seem to be able to capture and trap fairies in a similar fashion to butterfly nets. One example is the "Crocker Pot"[9][10], a device built in the form of a Crock Pot with the ability to suck and trap fairies in it within a certain radius of it. Another example is the "Fairy Sucker-Upper"[11][12], a vacuum with the ability to suck up and capture fairies.
Shrinking
If a fairy is shrunken, it can weaken their powers significantly.[13][14] This can make them unable to grant most wishes and/or revert themselves back to normal with magic.
Anti-Fairy and Pixie Magic
According to Da Rules, fairies are unable to interfere with Anti-Fairy and Pixie Magic, which means they can often not stop what Pixies and Anti-Fairies do with magic.
The only way to defeat this magic is to trick them or make a deal with them. In Pixies Inc., Timmy makes a deal with the Pixies that if he beats them in a game of miniature golf, he will be given one rule free wish, but if not he will lose Cosmo and Wanda forever.
Dragons
In some instances, Dragons appear to be immune to fairy magic. This is apparent in "Knighty Knight" where Timmy must help King Arthur Liebowitz defeat a deadly dragon.
Armadillos
The armor of an armadillo is resistant to fairy magic. In the episode, Teacher's Pet, Mr. Crocker uses a machine to take on the genetic characteristics of many animals, one of which being an armadillo. By rolling up into a defensive ball, his armor blocks any attempt to use magic to revert Crocker back to normal.
Superhuman/Witches
People and/or creatures that have super powers (like the Super Bike, Mighty Mom, Dyno Dad, and the Power Pals) can be immune to magic, while some, like the Witch/Alden Bitterroot, can block fairy magic.
The Terrible Twos
In The Terrible Twosome, according to Wanda, the terrible two is immune to fairy magic.
Love
According to the Da Rules, magic can't wish away or break apart true love unless it's fake teen love but it must be proven first.
See also
References