Dr. Maybe and Curlfinger




Gender:
Male (Dr. Maybe), Female (Curlfinger)
Species:
Human (Dr. Maybe), Fairy (Curlfinger)
Dr. Maybe and Curlfinger are the aliases used by Timmy and Wanda when they helped Schnozmo by convincing Cosmo that he was a secret agent in the episode "Double-Oh Schnozmo!".
Information
Dr. Maybe is Timmy's role in Wanda's play to cheer up Cosmo after he discovered his brother Schnozmo took advantage of him. Curlfinger is the alias used by Wanda, as Dr. Maybe's assistant.
Description
Dr. Maybe wears a scientist suit, a fake mustache, and is constantly petting a purple cat that is a after-ego of Poof..
Curlfinger wears a black jumpsuit, has blue eyeliner, and has 2 wand sticks sticking out of her hair.
Background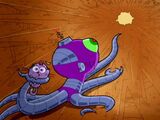 In Wanda's play, Timmy portrayed the evil Dr. Maybe. He made Schnozmo jump into the alligator pit, then into saw blades, and then activated a mechanical octopus.
The octopus went berserk and captured everyone for real, which led to Shnozmo actually coming to the rescue and saving the day.
Trivia
Both characters are parodies of characters in the James Bond series.