Disney XD (formerly Jetix, Fox Kids) is an American digital cable and satellite television channel that is owned by the Disney Channels Worldwide unit of the Disney–ABC Television Group, itself a unit of the Disney Media Networks division of The Walt Disney Company. The first five seasons of The Fairly OddParents! currently air on this channel in Latin America, and formerly in the Czech Republic.
Background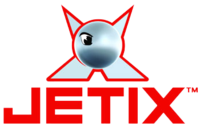 Jetix was originally launched as Fox Kids in 1996 by Fox Family Worldwide (Now ABC Family Worldwide). In 2001, FFW (along with Fox Kids) was acquired by Disney and ABC. In 2004, Fox Kids was re-branded worldwide as Jetix to align itself more with the Disney/ABC branding. The Jetix brand was used for blocks and channels featuring action-related and adventure-related live-action and animated programming. In 2009, Disney would begin to phase out the Jetix brand and replace it with Disney XD (or Disney Channel in some Eastern and Central European countries, including the Czech Republic).
This channel had the rights to the original airings of the first 4 seasons of Fairly OddParents in Latin America and the Czech Republic. (In Latin America the episodes 97-117 from Season 5 are the only who airs in Disney XD). Since episode 118 it would move to Nickelodeon's Latin American Channel. Disney XD still holds the rights to these first 4 seasons and the Season 5 episodes continue to air reruns of those episodes on Disney XD Latin America (Nickelodeon Latin America only has the rights to air the rest of Season 5 and all the episodes from Season 6-10). They no longer air on the Czech version of Disney Channel.
In Brazil, The Fairly Oddparents also aired on Jetix with Brazilian Portuguese dubbing too, starting from the mid-late 2000s.
Video Gallery
Links
https://en.wikipedia.org/wiki/Disney_XD_(Latin_America)
https://en.wikipedia.org/wiki/Disney_XD
https://en.wikipedia.org/wiki/Jetix
https://en.wikipedia.org/wiki/ABC_Family_Worldwide
Community content is available under
CC-BY-SA
unless otherwise noted.