Additional Information
Also Known As:
 
Dimmsdale Film Festival
The Dimmadance Film Festival is a film making competition that is held in Dimmsdale.
That is a parody of Sundance Film Festival.
Information
Contestants film their own movie and then enter it into this festival, where it is viewed by an audience. Exceptional movies are given an award called a Dimmy. There are Dimmy awards in a number of different categories, although the only one that was named was Comedy. There may also be a Dimmy for Animation. Both categories are considered "the lowest forms of entertainment" by Trixie Tang.
The host of the competition is Chet Ubetcha, who hands out the award to the recipient after their movie has been shown.
Description
The outside resembles a movie theater with a marquee sign and search lights out in the front. Inside of the building is a theater with seats, facing a movie screen and a stage where the Dimmy is handed out, which includes a pedestal with a microphone and a ladder so that Chet Ubetcha can reach it.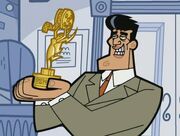 Background
Timmy entered this film festival in hopes that he would impress Trixie Tang. Among the other people who entered in the film competition were Tad and Chad, with a huge big budget movie corruption of Hamlet starring Arnold Schwartzengerman; Timmy's parents, who were filming a documentary about Timmy called "Stupid Questions Our Son Asks Us"; and the film that Timmy made. Timmy's film had two distinct versions, a crude and nonsensical one that he and his friends made, and a realistic one that Timmy and his fairies made. Timmy decides to go with the one his friends made so that he would not upset them. Timmy, in the end, wins the Dimmy award for comedy, although Trixie is still unimpressed by his award as she said that comedy is the lowest form of entertainment. Sylvester Calzone also stated that the audience laughed at Timmy's film because it was really bad. Timmy then asked if he was a critic and Sylvester confirmed so. Because his job is to punch critics, Sylvester begins punching himself and continues to do so as the episode ends.
See also
Community content is available under
CC-BY-SA
unless otherwise noted.