David Lewis
Personal Information
Born
David Fouts
4 August 1976
Vancouver, Canada
Occupation
Actor
Years active
1999-present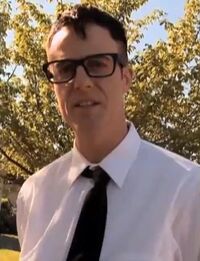 David Lewis (born 4 August 1976) is a Canadian actor.[1] He plays Denzel Crocker in A Fairly Odd Movie: Grow Up, Timmy Turner! and A Fairly Odd Christmas.
Career
David Lewis has appeared on television as a series regular in Harper's Island and in recurring roles in Showtime's highly acclaimed series Dead Like Me and The L Word. He has also guest-starred on Stargate, The Dead Zone, Eureka, and Smallville. Lewis' film career highlights include working with William H. Macy on TNT's award-winning film Door To Door and with Harrison Ford on Firewall. He has also had supporting roles in the 2009 feature film Personal Effects, opposite Ashton Kutcher and Michelle Pfeiffer, and in The Day the Earth Stood Still with Keanu Reeves and Jennifer Connelly. Additionally, Lewis starred in the award-winning 1999 independent film Shoes Off, which earned a Canal + award for Best Short Film.[2]
Fairly Odd Movie
In A Fairly Odd Movie: Grow Up, Timmy Turner!, Lewis plays Denzel Crocker, who is still Timmy Turner's fifth grade teacher after thirteen years. Mr. Crocker correctly suspects that Timmy has been refusing to grow up and get out of school because he wants to keep his fairy godparents, and is more determined than ever to capture Timmy's fairies. At some point of the movie, he uses a fairy-capturing gun on Cosmo, Wanda and Poof. In interview, Lewis said that filming some scenes of the movie was like "working with nothing", because the CGI fairies were added by computer animators, after the scene was ready.
References
Community content is available under
CC-BY-SA
unless otherwise noted.