Cheryl Hines (born September 21, 1965) is an American actress and television director, best known for her role as Larry David's wife Cheryl on HBO's Curb Your Enthusiasm. [1] In A Fairly Odd Movie: Grow Up, Timmy Turner! she plays Wanda in Live-Action.
Career
Actress, Producer and Director Cheryl Hines is a two-time Emmy nominee for her role as Cheryl David on HBO's Golden Globe Award-winning series Curb Your Enthusiasm, the brainchild of Seinfeld co-creator Larry David. This fall, she will star in the ABC comedy Suburgatory, opposite Jeremy Sisto.
Hines' most recent television project was as Executive Producer of the NBC Television Series School Pride, a proactive, alternative series that told the stories of communities coming together to renovate their aging and broken public schools. The cameras followed students, teachers and parents as they rolled up their sleeves and rebuilt their own schools, concluding with the unveiling of a brand new, completely transformed school.
Her feature film directorial debut, Serious Moonlight, was released last year and premiered to critical acclaim at the Tribeca Film Festival. The screenplay was written by the late Adrienne Shelly, who directed Hines in the critically acclaimed Waitress. The film is a dark comedy centered on the troubled marriage of a high-powered female attorney (Meg Ryan) who learns that her husband (Timothy Hutton) is about to leave her for another woman.
Hines' other television credits include a major story arc on ABC's drama series Brothers and Sisters and a starring role opposite Megan Mullally in the network series In the Motherhood. Hines has also produced and directed various television projects, including the award-winning comedy series Campus Ladies for the Oxygen Channel and the Starz Networks original comedy series Hollywood Residential. Hines also had starring roles in several critically acclaimed feature films including The Ugly Truth, RV, Waitress, The Grand and Bart Got A Room. [2]
Fairly Odd Movie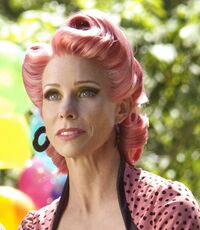 In the live action film "A Fairly Odd Movie: Grow Up, Timmy Turner!", Cheryl Hines plays Wanda, that is still Timmy Turner's fairy godmother after thirteen years. Wanda is seen in both CGI-animated form (voiced by Susanne Blakeslee) and a live action "human" form where she is played by Cheryl Hines.
References
Community content is available under
CC-BY-SA
unless otherwise noted.