Trivia
This is the third episode of the tenth season that Mr. Turner doesn't appear in at any moment and second in a row.
This is the third time Cosmo and Wanda do not appear out of disguise during an episode. The first was No Substitute For Crazy! and second was Old Man and the C-.
Chloe's full name is revealed to be Chloe Mother Teresa Neil Armstrong Carmichael.

Although later episodes seem to not be consistent with this, some showing her with an entirely different middle name.

This was the last episode to premiere in 2016.
This is the last episode to air on the main channel, in 2017, new episodes started airing on Nicktoons.

Several Season 10 episodes that had premiered on Nicktoons were scheduled to air on the main channel (albeit at a very early time) starting on April 2, 2018, but the episodes were taken off the schedule later on.

International Airdates

This episode made its international premiere in Israel on August 18, 2016.
This episode premiered in Canada on September 9, 2016.
Allusions
For Dummies - Connie Carmichael finds a book dropped by Denzel Crocker and his mother called 'Poaching for Dum Dums' which is an obvious parody of the For Dummies books.
Running Gags
Clark and Connie complimenting each other.
Chloe freaking out whenever she realizes she made a bad choice.
Cosmo getting mad at his reflection due to thinking it's Cosmo 2.

Even Timmy himself believed Cosmo 2's existence, as he said "Cosmo 2's gone too" when looking at the mirror from the open cage. However, this might be due to getting lost in thoughts when panicking.

Characters mistaking monsters for inanimate objects.
Cosmo and Wanda's wands malfunctioning when Timmy and Chloe attempt to use them.
Denzel Crocker not being able to take his pills like a big boy.
Mrs. Crocker tying Crocker's shoes to his feet while he is not looking.
Continuity
This is the 15th time Timmy transforms, and the first time since Gone Flushin'.

This is also the first time Chloe transforms.
Goofs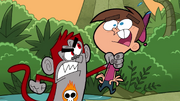 When a monster is strangling Timmy in the rain forest, his top lip disappears for a split-second which causes his buck teeth to go inside his eye.
While Chloe is a booby bird, she has teeth like Cosmo, Wanda and Timmy when her teeth are gritted in some scenes.
Community content is available under
CC-BY-SA
unless otherwise noted.