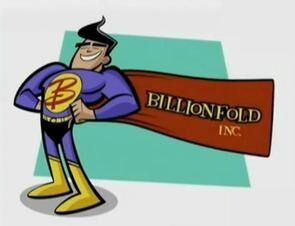 Billionfold Inc. is an American animation studio founded by Butch Hartman, the creator of The Fairly OddParents.
Background
The company was formed in 2004 to produce Butch Hartman's second Nickelodeon show, Danny Phantom, which ran for 3 seasons from 2004 to 2007.
When The Fairly OddParents was revived in 2008, Billionfold Inc. partnered with Frederator Studios (who produced the "Oh Yeah! Cartoons" shorts and the first 5 seasons) to co-produce the series from Season 6 onwards.
The company's third project was T.U.F.F. Puppy, which ran for 3 seasons from 2010 to 2015.
Billionfold's fourth and final project for Nickelodeon was Bunsen Is a Beast!, which ran for 1 season from 2017 to 2018.