Trivia
Though they both hate who their child married (Big Daddy hates Cosmo and Mama Cosma hates Wanda), they're attracted to each other (much to the disgust of Cosmo, Wanda and Timmy.)

Even though Big Daddy hates that Wanda married Cosmo, Big Daddy seems to be more willing to put up with Cosmo as his son-in-law than Mama Cosma's willing to put up with Wanda as her daughter-in-law.

Apparently, Wanda doesn't like milk or sugar in her coffee.
Blonda sounds different in this episode. This is because she is voiced by Tara Strong instead of being voiced by her guest star voice actress.
A scene from this episode appeared on the South Korean drama, My Love from the Star.
This is Big Daddy's second and last appearance in the series. He would later appear in the short, "Fairly Family Tree".
Allusions
The Godfather:

The title card is a spoof of the movie.
Mr. Neigh-Neigh is a reference to the decapitated horse's head.
The garbage collectors look like the Corleone Mafia.
One of the garbage collectors looks like Fredo Corleone.
Animaniacs - Big Daddy says phrases that can be heard by the Goodfeathers characters Bobby and Pesto.
The Simpsons - The Tony Two cans trash takers could be a reference to Fat Tony.
Running Gags
Goofs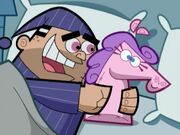 In the bed scenes, Big Daddy's five-o'clock shadow has a lighter tone than normal.
After the beginning, Big Daddy threw away the blanket. But in the next scene, the blanket was there.
At the beginning, Mr, Neigh-Neigh's skin and hair tone are darker. But in the next shot, the tone is normal for the rest of the episode.
When Timmy, Cosmo and Wanda are being transported to Big Daddy's office, for a frame they are transparent.
In one shot, Cosmo's eyebrows go behind his fringe.
When Cosmo is nailing the clove, his trouser becomes a skirt.
After Wanda opens the blinds, for two frames, the storyboard template appears.
In the opening shot of the feminized board room, Piero Fairywinkle and Carmine Fairywinkle are on the far end of the table, but when they and the other six employees at the table look at the employee who mentioned that the tea is Darjeeling tea, they are on the side of the table.
The pony pillow that appears throughout the episode is Mr. Neigh-Neigh, but the captions always spelled its name as "Mr. Nay Nay".
Production Notes
This episode along with "Mooooving Day" were the first episodes produced in 2005 according to the credits. All episodes that premiered earlier in 2005 were produced in either 2003 or 2004 according to the credits.
Community content is available under
CC-BY-SA
unless otherwise noted.