Ani




Gender:
Female
Ani is a minor character who appeared in the episode, Crash Nebula. 
Information
She is a girl from an anti-matter universe. At first, she didn't like Sprig. After he saved her life, she begins to warm up to him. Ving claims that she's his soon-to-be girlfriend, but Ani wouldn't date him even if he were the last guy in the universe. She is voiced by Nika Futterman.
Description
She is a humanoid with white skin and black hair. She wears a full-body suit complete with helmet. Her hair is not blocked by the helmet and floats freely behind her. Her suit is white with pink trimmings and she wears pink gloves.
Powers and Abilities
Her powers were never fully shown or explained but she stated that she could vaporize Spring if she wanted, and shows her fist smoldering. It's possible that she could fire and manipulate anti-matter/energy but that is unknown.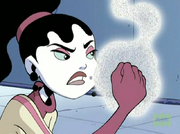 See Also